More Galaxy S6 edge camera samples: Check out what the 16MP, F1.9 unit can do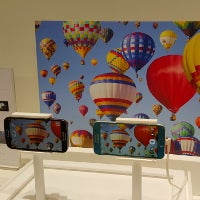 A 16-megapixel Sony Exmor RS IMX240 sensor with extremely wide,
f
/1.9 lens and optical image stabilization – now who wouldn't get behind such a camera? We've already formed a first impression (a good one) of the unit, and though we'll continue sharing with you those insights for as long as we're here in Barcelona, do keep in mind that it's too early to tell if the Galaxy S6/S6
edge
will outperform the competition.
Regardless of all of that, we went to Samsung's booth
once again
to snap a few more samples with it. The area outside of is strictly off limits when you have one of Samsung's darlings, but we did get a few fine shots nevertheless.
Check them out!
Health warning: Full-sized camera samples, will take a while to display depending on your connection.