Microsoft posts Windows 8 Consumer Preview event video online
1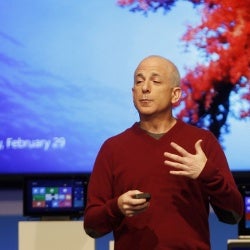 Yesterday, Microsoft brought the
Windows 8 Consumer Preview
- the first version of Windows 8 that regular users can download and install on their machines. It's Windows reimagined - it's not only different with the new Metro UI, it's also engineered to work on both ARM and x86 architectures. This means that it will not only power desktop and laptop PCs, but also tablets and share some of its features with Windows Phone 8, which is coming late this year.
Now, Microsoft has posted the full video of yesterday's Windows 8 Consumer Preview event and seeing the live demo will definitely allow you to see how
"fast and fluid"
it is. Fast and fluid is actually the motto Microsoft had in mind when developing the new version of the most popular OS in the world. Hit the source link below to watch the full event and get the popcorn ready - it's nearly an hour and a half.
Image courtesy of International Business Times.