No connection? No problem. Microsoft Translator now works offline
3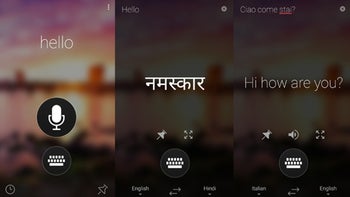 Microsoft's translator has been around for a
little while
now. It uses A.I. to translate over 60 languages. The app has been downloaded over 5 million times on Android alone and has been helpful for people who travel. In the past, this sort of A.I. driven technology required not just the hardware but an internet connection to boost its abilities. Now that smartphones have gotten more powerful, Microsoft has added the ability to use it
without any connection
at all. A user will have to download a language pack, which will store data on the device and run purely off the handset. This is part of Microsoft's focus on edge computing, which involves having information as close to the user as possible. The ability to use their
A.I powered translations
offline has been a process. It started out late last year on phones with higher-end chipsets. They have now refined it and reduced the size of the packets which allows almost any device to use the feature.
Microsoft claims a 23 percent improvement in translation quality, while at the same time a 50 percent reduction in size. These improvements were also carried over for developers, which can now use the features offline inside apps that wish to utilize text translation through Microsoft. The offline language packs include Arabic, Chinese, French, German, Italian, Japanese, Korean, Portuguese, Russian, Spanish and Thai. If you
travel a lot
or sometimes need to overcome a language barrier, check out the app. The new features are available on IOS, Android and Amazon Fire. More languages are sure to follow.