Maria Sharapova is "make believe" no more, swaps the Sony advertising gig for Samsung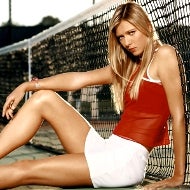 The tennis star Maria Sharapova is the world's best paid female athlete, due as much to her actions on the court as to her hot looks. She has been a Sony Ericsson ambassador for the last four years, but her agent just announced she is abandoning ship to root for the Samsung team, starting April 1.
Her contract to promote
Samsung's smartphones, tablets and TVs
is initially for three years, and for now covers Russia and the Commonwealth countries, with the rest of the world coming later on.
Sharapova, who earns about $25 million a year from lucrative marketing deals with companies like Nike, Tag Heuer, Evian and Tiffany, saw her contract with Sony expire at the end of last year, and the Japanese said they won't be sponsoring the WTA anymore, so her agent found her a new gig with Samsung.
We are expecting oodles of hotness coming from Samsung ads in the future, both from Sharapova and from the gadgets she will be tasked to promote. Galaxy S III and a tennis skirt sounds like a win-win for both Samsung and us mortal Sharapova/gadget fans, doesn't it?