MWC 2011: What to expect?
10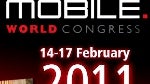 The
Mobile World Congress
is the biggest event in the mobile and telecom industries. Organized annually by the
GSM Association
, this year its start coincides with
Valentine's Day
, February 14th, so we will once again risk our love lives shattered to pieces in the name of reporting, and will be there to broadcast live the excitement for you.
Just to get an idea how big MWC is, we will say that in 2010 it was the largest event held in the enormous
Fira de Barcelona
center, with 49000 attendees from all over the globe, half of which at high-level positions in their respective companies, as well as some 2400 journalists. More than 50000 are coming this year.
Bear in mind that it is not even open to the general public, but rather for the press and representatives of most companies that have something to do with mobile and telecommunications. A parallel event for app developers, called App Planet, is taking place as well, with 10000 attendees this year, up from 6000 in 2010.
We will try and corral here for you the most anticipated specs, designs and innovations flying around in the ether, that are supposed to break cover at MWC 2011:
Samsung
Sammy has been hush-hush in terms of leaks and rumors this year, but its announcements will be some of the most closely followed at the MWC. There should be a
quartet
of low to mid-range Android phones on display - the
Galaxy Ace
,
Galaxy Fit
,
Galaxy Gio
and
Galaxy mini
- but that's not what we are really looking for.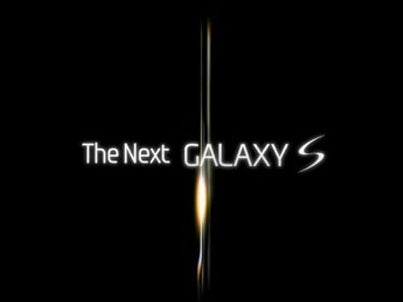 Judging from a few
teasers
, we are waiting with baited breath first and foremost for the
Samsung Galaxy S 2
and the
Samsung Galaxy Tab 2
. Samsung's own dual-core Orion chipset is supposed to
wipe the floor
with NVIDIA's Tegra 2, in terms of performance, so we can't wait for the catfight, if that's what is powering the high-end Galaxy sequels.
But we digress. The second generation of the Samsung Galaxy S is supposed to sport a 4.3"
Super AMOLED Plus
display, 1GHz dual-core chipset, 8MP shooter with LED flash, capable of Full HD 1080p video (of course), 1GB of desktop-grade RAM, and 32GB of internal memory - all this in a svelte package with around 0.35" (9mm) thickness. It will, naturally, run
Android 2.3 Gingerbread
, and feature an NFC chip for
mobile payment
. If these rumored specs materialize, it will easily go at the top of the Android food chain.
The other memorable announcement by Samsung should be the sequel to its
Galaxy Tab
slate. Those of us waiting for a dual-core Orion here might be disappointed as well, as Sammy supposedly
ordered
a bunch of Tegra 2 chipsets. It might be that Orion is not ready for prime time yet, or that it is simply cheaper to use an already tested and approved dual-core reference platform for Android in its upcoming powerhouses.
We don't know, but the rest of the rumored specs for the tablet sound like a wild ride to us - 1GB of RAM, 64GB of internal memory, 8MP rear camera with dual LED flash, and 5MP front-facing cam. If these turn out true, Samsung might only be gaining bragging rights in the camera department.
Unfortunately we will have to pass on the
wishful thinking
that the Galaxy Tab 2 will sport 7" Super AMOLED display, since Samsung will be able to produce such screens in mass quantities much later this year. For now we are probably looking at an LCD with Sammy's new
Super PLS technology
, which can go up to 800x1280 pixels of resolution. As for 3D, that's speculated also, but we have our doubts.
LG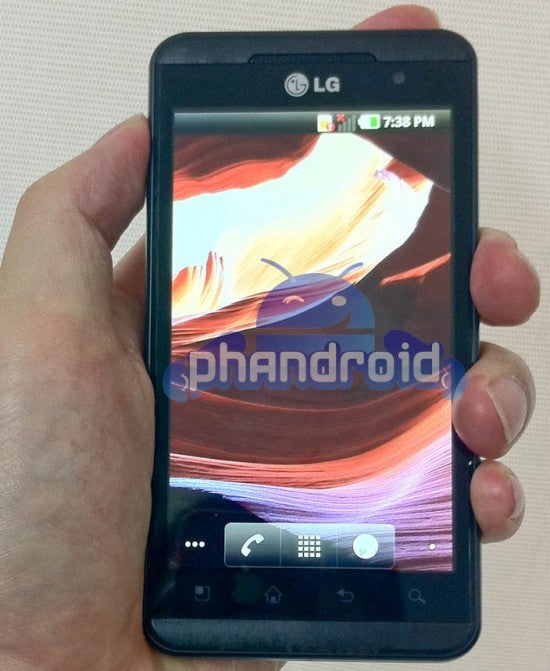 LG Optimus 3D
The
3D spotlight
will crown LG this year. Besides being the first to market with a dual-core phone, the
LG Optimus 2X
, now the company is firmly decided to stand out once more. It should introduce the
LG Optimus 3D
, and the
LG G-Slate tablet for T-Mobile
, both of which are capable of stereoscopic image and video capture, which tricks the brain into seeing content in 3D.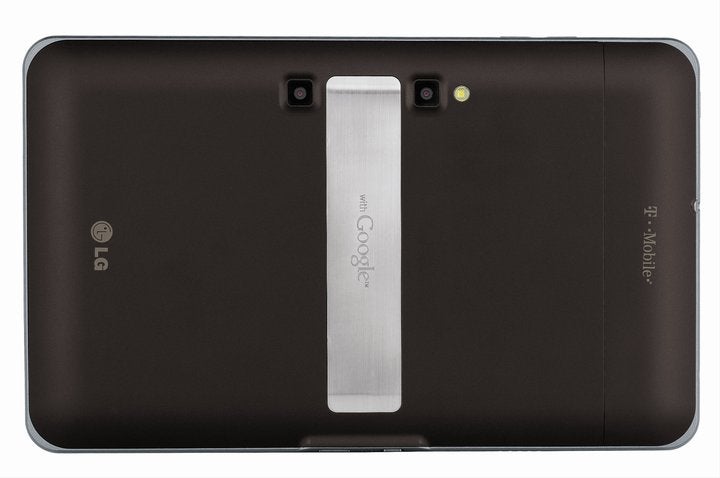 T-Mobile G-Slate
How does it work? The LG Optimus 3D should have a dual-lens camera, and the T-Mobile G-Slate two separate cameras, which, working in tandem, are "
creating or enhancing the illusion of depth in an image by presenting two offset images separately to the left and right eye of the viewer
".
As for the glasses-free 3D parallax barrier screen technology that could be on the LG Optimus 3D, it will most likely use an overlay made either by
Sharp
(which makes the Nintendo 3DS screen overlay) or
Masterimage 3-D
, which again tricks the eye into the perception of depth, when looked at from a set distance range. The good part about these 3D LCD or OLED screen overlays is that they can be
turned off
, if 3D is not your cup of tea, so you can get back to your plain ol' boring 2D display.
LG also mentioned that it will have a complete 3D platform come launch time, to address the relative lack of 3D content, so we might be looking into a 3D interface as well.
Sony Ericsson
The Japanese-Swedish venture mostly slept through 2010, but it still managed to eke out a
small profit
at the end, thanks to its foray into Android handsets, which it rarely bothered to update. This year, though, Sony Ericsson said
it learned
from its teething problems with Android, and is firmly decided to reclaim the lost space in the cell phone market. Its upcoming Android handsets are actually some of the most leaked and talked about.
We are looking at the
Sony Ericsson Xperia Play
- an Android gaming phone with PlayStation-style controls, and dedicated game section in Android Market. Then we have the
Sony Ericsson Xperia arc
, with its beautiful thin design and
Exmor R
camera sensor (our preview
here
). Last, but not least, a Sony Ericsson Vivaz look-alike is in store for us at the MWC, called
Sony Ericsson Xperia Neo
. Actually, Sony Ericsson's announcements will be one of the most closely watched at the expo.
HTC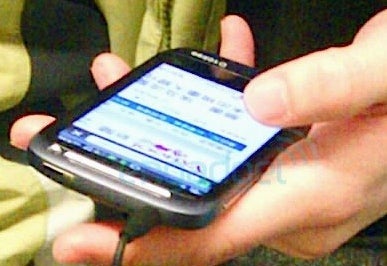 Leaked HTC Desire 2
The Taiwanese had a picture of an unnamed device
leak already
, which was immediately labeled a successor to the HTC Desire, and it looks a lot like the
HTC Desire HD
, meaning that it seems to have a large screen, and a unibody aluminum design. These designs are common for the HTC smartphones these days, so we can't judge for the internals, but it might actually be HTC's own dual-core debut, or some LTE phone for Europe/Asia. Either way, we are looking forward to that one too. A
successor to the HTC Droid Incredible
on Verizon seems to be in the works too.
HTC might also be banging the drum about its 7"
HTC Flyer
Android tablet, which,
rumor has it
, is single-core. Considering it should have the chipset of the HTC Desire HD, and 1GB of RAM, performance would hardly be an issue. The HDMI port more than makes up for the lack of one more core no app is currently fully utilizing anyway. It should have a 5MP rear camera, and the prototype was running Gingerbread.
Nokia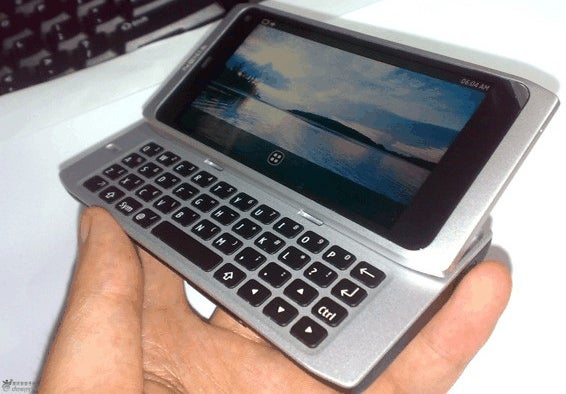 The supposedly cancelled Nokia N9-00
Nokia held a Strategy and Financial Briefing conference on February 11th in London, where it
dropped the bomb
that Windows Phone will become its primary smartphone platform. No phones are coming out of this at least for few months, but one MeeGo device will be outed just as a playground for innovation, said Nokia's CEO Stephen Elop on Friday.
In that case, the most hotly anticipated announcement on Nokia's part at the MWC might be its first and last MeeGo handset - the
Nokia N9-00
with a physical keyboard is
said to be scraped
, and replaced with a touchscreen-only
Nokia N9-01
. Nokia's new flagship is
rumored
to sport
Intel's Atom chipset
, have a large display with 480x854 pixel of resolution, and similar camera to the great one on the
Nokia N8
. Actually the leaked specs are a
1.6GHz
Atom CPU, 1 GB RAM, 200 MHz graphics processor, HDMI-out, NFC chip, GPS, Wi-Fi and Bluetooth, as well as a 21Mbps HSPA+ radio. Anyways, CEO Stephen Elop is in the mix as a speaker at some events, so we will know a lot more about the Nokia Windows Phone strategy after the end of the MWC.
There is a lot more to look for from the MWC Expo than just phones and tablets. This year's topics seem to revolve around
Mobile Health, Mobile Money and Mobile Advertising
. Mobile Health even has its own mHealth moniker, which covers everything from mobile gizmos that connect to your smartphone to analyze your bodily fluids samples results, to apps which gather info about your regimen, and relay them to your GP.
The state of wireless connectivity standards will also be discussed, with
HSPA+ and LTE
receiving a dedicated panel. New business models for carriers, and ways to deal with the burgeoning mobile data traffic are to be explored, as well as mobile payment and carrier billing initiatives.
The panels we think will be very interesting are "
Mobile Devices: It's What's Inside that Counts
", "
Making Apps Smarter
", and "
Connecting the Dots: A 360˚ View
on Consumer Electronics
", which examines connecting smartphones with our other gadgets, including
home appliances
.
Of course, we are also anticipating interesting tidbits from the panel that deals with the future of mobile called "
Vision for 2020
", so we will follow all developments with our troops on the ground to keep you up to date with the biggest mobile expo this year - the MWC 2011.