Samsung ordering up to $350 million worth of dual-core Tegra 2 chipsets for tablets and phones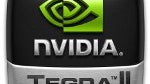 Just how close has been NVIDIA's cooperation with Google on declaring Tegra 2 the de facto standard for Android 3.0 tablets? Pretty close, it seems, if even Samsung decided not to wait for its superior
Orion chipset
to be ready, and decided to start with the here-and-now Tegra 2, until its own dual-core creation is completed.
The only thing missing from yesterday's surprise info that Sammy is
also lining up for Tegra 2 chipsets
, was how many the company has ordered. Now we have that as well, courtesy of a Citigroup analyst. His research showed a sizeable order of between $250-$350 million that is coming Samsung's way in the first half of 2011, and is supposed to go in
both tablets and smartphones
, according to him. That is more than what the analyst predicted the whole revenue from Tegra 2 would be for NVIDIA in 2011, before Samsung lined up.
Great news for NVIDIA, and, from consumer's standpoint, the sooner we see powerful, but energy-optimized chipsets with two cores in our devices,
like the LG Star
, the better. Something just irks us with this one, though - such a large order would indicate that Samsung is not placing anything else in its new high-end handsets and tablets possibly until the summer.
Sammy's main advantages before the competition have been the Hummingbird chipset and Super AMOLED screen this year. Now the info that we might not see Orion anytime soon in a commercially available device, and the fact that AMOLED screens production
can not be ramped up sufficiently
before the summer of 2011 as well, means that Samsung will just go with the flow for the first half of 2011.
What was that demonstration of an
Orion chipset in a Samsung tablet
last month then? Could it be that Tegra 2 simply comes cheaper, due to its "for Honeycomb" stamp of approval by Google, as demonstrated by
Andy Rubin with the Motorola tablet
?
source:
Barron's
via
Electronista