Samsung outs Super PLS LCD, better and cheaper to produce than current LCDs
1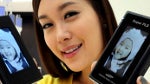 Samsung's name is usually in the news lately
with the AMOLED technology
, that gave us mobile screens such as the 4" beauty on the
Samsung Galaxy S
. Samsung Mobile Display, however, is not giving up on LCD either - the company announced that it has invented a technology called Super PLS or Plane-to-Line-Switching, for LCD displays.
Compared to conventional In-Plane-Switching (IPS) panels, as found in the Motorola DROIDs, or the
iPhone 4
, the Super PLS display has an improvement of about 100 percent in viewing angles. That puts it almost on par with AMOLED displays, since the iPhone 4 already has excellent viewing angels (for an LCD screen, that is). Not only that, but it is also 10 percent brighter, which should come in handy under direct sunlight.
The cherry on the cake - the Super PLS display technology supports up to WXGA (800x1280 pixels) resolution, and is 15 percent cheaper to produce. Thus Samsung's Super PLS LCD could pave the way for even bigger screens at the same pixel density as the one on the iPhone 4.
Geez, Steve Jobs will be really hard-pressed what to pick for the next-gen iPhone. Just when we thought that
Super AMOLED will be the way
, as Samsung
will have enough capacity
to produce it by next summer, Super PLS LCD strikes back. Mass production will begin early next year, and, of course, the technology will appear in future smartphones by Samsung, and others. Keep'em coming, Sammy, for the sake of humanity.
source:
SamsungHub