Samsung Galaxy Tab 2 high-resolution Super AMOLED screen rumor debunked by people in the know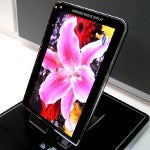 We
wrote about
rumored Galaxy Tab 2 specs over the weekend, due to a leaked video listing some crazy hardware for Sammy's 2nd gen Android tablet. While the video looks made up in someone's garage with free software, the specs are so drool-worthy, that we felt compelled to dive in, and try to weed out what's possible, and what isn't.
First off, the list says the Galaxy Tab 2 is running Android
2.3
Gingerbread, which will be followed by the tablet Android 3.0 Honeycomb. Entirely plausible, considering that Google has given priority to the
Motorola XOOM
tablet for all things Android 3.0, and the other tablet makers at CES said Honeycomb will be coming later onto their devices. The homescreen on the alleged Galaxy Tab 2 pictures looks too much like the one of the Froyo-running Galaxy Tab, moreover as a design it looks pretty much the same. The browser icon in Gingerbread is green, whereas here is white - Samsung might have skinned it like it did with the original, though, so that's no argument against the Gingerbread part.
Next in line - Galaxy Tab 2 is running the NVIDIA
Tegra 2
dual-core chipset. While strange that Sammy hasn't placed its own
dual-core Orion
silicon inside, this coincides with the rumor that the
tablet Orion
is not quite ready yet, that's why Samsung went out and
bought
up to $350 million worth of Tegra 2 chipsets. It's probably just been cheaper, then waiting it out, and trying to adjust Orion for Honeycomb from scratch.
The rest of the listed specs are a 7" Super AMOLED Plus screen, 1GB RAM, 64GB internal memory, 3G, USB port, and the full suite of sensors, including barometer, which Gingerbread now
supports
natively. A Full HD video camera with dual LED flash is also nothing sensational - the dual-core chipset supports 1080p video encoding and playback. We are not so sure about the part where the rear camera is listed as 8MP, and the front one as 5MP. While certainly doable, we don't see the point, especially in a tablet, other than for Samsung to say - "look, ours is better than the Motorola XOOM". Oh, well, that might be it after all. We can't argue with the colors listing as well - black, white&silver and black&silver sound fine.
And here we come face to face with some pretty wild claims. A 7" Super AMOLED display sounds believable at first look - Sammy announced it's created one, and even
showed
it at expos here and there. The fact that it is listed as
Super AMOLED Plus
might also be true, since we can't imagine that the biggest Super AMOLED screen Sammy has made to date will be with the previous technology.
The source, however, claims the outlandish resolution of 1200x2048 pixels, which, even though Super AMOLED + has 50% more subpixels per
pixel
, is still too much out there. Besides, it contradicts with what Samsung itself
showed
at the FPD 2010 show as the Tab successor. It had different design (see the picture after the source link), and a 7" Super AMOLED display, but the resolution was listed as of the regular 600x1024 pixels WSVGA variety. Moreover, we dug out an interview with Barry Young, Managing Director of the OLED Association, who outright said that these 7" and more Super AMOLED displays are not coming until late in the second half of this year in sufficient quantities, so that's that:
Well, this ultra high resolution claim-fake undercuts for us the possibility for it being 3D as well, which the source lists too. While
rumors
have been flying around about the LG G-Slate being 3D, the last one
mentions
only the camera as able to catch stereoscopic images, rather than the display being 3D. Not that Samsung is a slacker in 3D technology for its TVs, but three dimensional images on its new slate, and without glasses seems rather far-fetched for us. Well, could it be that the Galaxy Tab 2 will have an
LCD
screen of high resolution then? Something with Samsung's new
Super PLS LCD
technology? That's more like it, but even this one reaches a maximum resolution of
800x1280
pixels.
And so, this leaked list and shots seem more of a wishful thinking to us in the ultra-high-resolution-Super-AMOLED-3D-screen part, but we'd take all of the remaining specs, and make ourselves a rather 2011-worthy successor of the Samsung Galaxy Tab. The MWC expo is coming in three weeks, so our people there will be all over Samsung's booth to demo the Tab successor for you.
source:
OLED-info
,
Samsung
(translated) &
Twitter