Nokia might have scrapped the N9, something else running MeeGo leaks out
7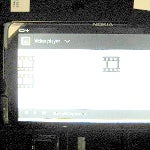 One Eldar Mutazin, who is
often cited
when Nokia prototypes leak out, has tweeted on Saturday that the Finns have ditched their plans for the
Nokia N9
, which was supposed to be something similar to the
Nokia E7
(big screen, keyboard and all), but running MeeGo.
This contradicts with the
alleged presentation
of said Nokia N9 at the MWC Expo next month by CEO Stephen Elop himself. Still, it might make sense, if the hardware is now dated, considering the
dual-core
onslaught coming our way in 2011, but what about MeeGo, that elusive OS that Nokia wants to make the
most user-friendly
out of all?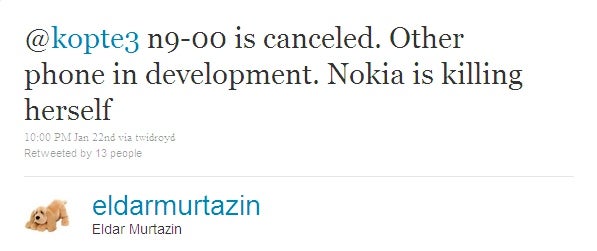 Eldar Murtazin refers to Nokia as "herself", since the "a" in the end makes the gender feminine in Russian
A mysterious hardware has been leaked on one of the forums of Eldar's site, which looks like a tablet-y device, running MeeGo's multimedia player. A lot of speculation is currently swirling around it - from a test hardware platform (then why the bezel and screen protector?), through a MeeGo tablet, to the replacement of the Nokia N9. The screen looks rather large for a N9 replacement, which is rumored to have a 4.2" one at a maximum.
Besides, it seems like a totally different concept - a black slab with no keyboard - whereas the N9 is supposed to have a physical QWERTY, as well as the 12MP shooter of the
Nokia N8
, so we wouldn't speculate at this point. If the N9 is still on, we can't help but wonder what good will be the battery with an
Atom chipset
, powering MeeGo, and, if it is indeed with the big 12MP camera sensor of the N8, how much space there will be for a larger battery, and if that's the case how huge will this thing be, and so on.
For all it's worth, it seems that Nokia still hasn't entirely shaped up its next moves. The MWC Expo is fast approaching, so we will probably have some more info from our troops on the ground, when time comes.
source:
Mobile-review forums
via
Engadget
,
Twitter