Sony Ericsson PlayStation phone to carry Gingerbread, now branded with Xperia
8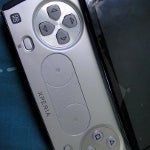 We love to call it the
Sony Ericsson PlayStation phone
, as we think this is the most appropriate title for a gaming handset by Sony, but the device has been leaked again in Hong Kong, and this time the
Xperia
brand is stamped front and center on the controller.
Known also as the
Zeus Z1
, the gadget went throught the
PlayStation brand
wishful thinking, but it seems that it will actually land at the third name mentioned -
Xperia Play
. After all, Sony has to sell somehow their PSPs as well, and people might get confused if both the phone and the portable console are carrying the PlayStation branding.
The gadgets (yes, there are two units in the new pics) have been sized against a white Xperia X10, and appear slightly smaller, which leads to the thought that the
3.7"
screen rumors are holding water. The display is said to be a variation of Sony's pride and joy Bravia TV brand, meaning that we could see some breathtaking resolution to rival the Retina Display. Other rumored specs are 8MP camera, 512MB RAM/1GB ROM and the same 1GHz Snapdragon chipset that is in the
T-Mobile myTouch 4G
and
HTC Desire HD
, currently showing the largest out of the box benchmark scores of all single core handsets.
The phone has also been advancing in its design stages apparently - there are now two engraved circles at both side of the ellipse in the middle of the controller part, which make it seem lake a tape cassette player. The buttons have now become more rubbery looking, rather than transparent, and the PlayStation connection is clearly demonstrated with the respective logo in the lower left corner.
One of the few conundrums around the Sony Ericsson Xperia Play has been solved now too. The firmware version screen clearly shows that it is running
Android 2.3 Gingerbread
, and it couldn't be otherwise, considering how
game-oriented
the latest Android version is. We've heard here and there that there will be a dedicated part of the Android Market for the handset, and the games are said to feature mobile prices, which means under $10. The gaming handset is reported to ship with 5 of them for free, and to be at around the $500 price point unsubsidized.
Granted, these are all preliminary leaks and speculations, but they sound so plausible, that we hope Sony has some additional tricks up its sleeve to make us fall in love on Valentine's Day, when the Mobile World Congress in Barcelona starts, and the pinnacle of a modern gaming phone
gets announced
.
source:
Hkgolden
via
Engadget