Lightning cable cracked and third party solution ready to ship November 3rd
14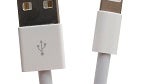 If you picked up an
iPhone 5
and have not been so thrilled with bringing the Lightning cable with you everywhere, it looks like the first third-party has come through with a working cable at
half the price
plus shipping.
One of the issues facing third party manufacturers is that the 8-pin Lightning cable is "protected" by an authentication chip. It was thought that this factor would make it difficult to reverse-engineer. Fortunately, these chips are not packing super-strong encryption, instead having a
rudimentary authentication that might be found in a printer cartridge
.
The result is that iPhone5mod has a cable ready to go for $9.90 plus $4 shipping to the US.
While Apple is just now getting around to brief "approved" third-party manufacturers about what must be done in order to make products with the new Lightning plug, iPhone5mods decided to just do it. It is entirely plausible to expect these cables to operate as advertised, but we suspect that if you end up cooking your iPhone 5, the company is probably not going to be able to help. That issue aside, with so much of this technology being assembled in China one could argue why this took so long.
source:
iPhone5mod
via
BGR