Lenovo IdeaTab S2 hands-on
3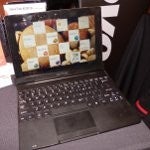 There's no denying it, especially when people really took a liking to the Asus Eee Pad Transformer, but
convertible style tablets
are showing their worth in rounding out the functionality of tablets as a whole. Well, if you're drooling over some sort of wickedly high-spec'd tablet, but simply can't pony over the cash for their premium cost, then the
Lenovo IdeaTab S2
might win you over with its supreme offering – with that
budget
conscious offering.
Connected to its
optional keyboard dock
, it's hard to not glance at the
Ice Cream Sandwich tablet
since it provides nearly the same set of functions you'd normally find with a netbook – like full-sized USB ports and additional battery to make it a road warrior. Holding the tablet all by itself, its textured plastic back cover offers a good amount of rigidity to sit still in our hands, but despite that, we're hardly smitten over its design.
Indeed a rarity at this point, the Lenovo IdeaTab S2 we've managed to scope is running Android 4.0 Ice Cream Sandwich, which looks unchanged over Honeycomb. At first, we were skeptical, but we're able to confirm it's running ICS after quickly peeking at its Android setting – still, we're a bit underwhelmed with the experience since it doesn't try to differentiate itself over Honeycomb. Accompanying the experience, it's tucking away a
1.7GHz dual-core Qualcomm Snapdragon processor
to deliver at least a decent performance with its operation – though, we have to admit that it isn't necessarily pushing the envelope.
Above all, its
$349 list price
is mightily tempting enough to capture our attention, and when you add in the $150 cost for its optional keyboard dock, its combined cost of ownership tally of
$500
is absolutely tempting. Thankfully, we won't have to wait long because Lenovo is ramping things up for a Q2 global arrival!