LeapFrog outs the $150 LeapPad Ultra, a kid-friendly tablet
7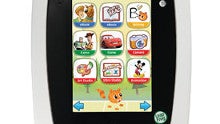 The LeapFrog Ultra, a $150 tablet designed for children
aged 4 to 9, is now confirmed to arrive on July 17.
Continuing the philosophy behind its predecessors, the Ultra is a tough and rugged device. It won't come out swinging after a drop in the pool, but you won't have to worry about your absentminded minors breaking it during play, the same way you would with an iPad 3. The device ups the ante of previous models with a larger 7-inch 1024x600 touchscreen display coming with a handy stylus to aid kids learn to write, we suppose. Albeit skipping on 3G connectivity, the slate comes Wi-Fi ready so that users can browse LeapFrog's curated app store - according to LeapFrog, you got access to about 800 apps as of this writing, but not the Play Store.
Looking at the specs sheet and the relatively limited app store, the non-initiated may wonder what makes this $150 kid's tablet an offer better received than the plethora of sub $200 tablets currently available, with both a better specs sheet and a considerably bigger choice of content? The answer is simple:
the LeapPad Ultra is, by all means, more a service than a standalone product.
Admittedly, parents can pick a $199 Nexus 7 and claim that they made the better purchase, until it comes down to securing that device for minors. And this is where LeapFrog excels – the company boasts a portfolio of content specifically created by a team specializing in the field of child development. Moreover, you won't have to worry about your minors straying into untested territory – from the built-in chat app through the custom search engine, LeapFrog has your back by providing a hassle-free, secure environment for kids.
source:
Engadget
,
UberGizmo