Leaked photos show the back covers belonging to a pair of Meizu's upcoming Blue Charm handsets?
6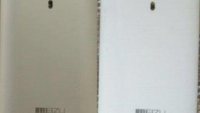 Back in March, we told you about a phablet from Meizu
dubbed the Blue Charm Note
, designed to compete with Xiaomi's high-end offerings. Now jump ahead to last Thursday when we told you that
two Blue Charm handsets will be introduced from Meizu on December 23rd
. One model will be the Meizu Blue Charm Note phablet with a 5.5-inch screen. The other phone is expected to be called the Meizu Blue Charm, and is expected to carry a 4.6-inch glass.
On Saturday, a number of photographs leaked, supposedly revealing the back covers belonging to both Blue Charm models. One set of photos shows a centered opening for a camera lens, with a dual flash cut out directly underneath. This would appear to be the rear cover for the larger screened Meizu Blue Charm Note.
The other set of pictures show the back of the Meizu Blue Charm. We have to say that the back of this phone strongly resembles the rear of the
Apple iPhone 5c
, down to the rounded corners and the placement of the flash and camera sensor.
A leaked photo showing a powerpoint presentation reveals that two models will be released in the first quarter of 2015. One device will be priced at the equivalent of $162 USD, while the other will carry a price tag equivalent to $129 USD. Just keep in mind that none of this is official until Meizu makes it so. And that should happen on the 23rd of this month, just a mere ten days away.
source:
GizmoChina