Leaked document points to a $199 on-contract T-Mobile G2 & $499 off contract
This article contains unofficial information.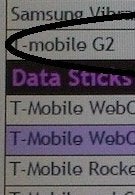 Although a good majority of top tiered smartphones have found themselves squarely at the gold price of $199.99 on-contract, it would've been difficult to see even something like the upcoming T-Mobile G2 stray from that arrangement. But then again, the Samsung Epic 4G kicked things up a notch by pushing its pricing to $249.99 – which is justified with its packed internals and 4G connectivity. Some suspected the T-Mobile G2 to follow a similar route primarily due to being the first HSPA+ enabled smartphone for the carrier, but going off a leaked document, it's looking to sit pretty like all of the rest. The leaked internal document points to a $199.99 on-contract price for the G2 after a $50 mail-in-rebate, however, going the no-contract route will only require you to dish out $499. Even at that price point, it should prove to be alluring enough for those who prefer not to be tethered to a contract. Now the only thing left to wait for is an official word from T-Mobile regarding its cost.
T-Mobile G2 PreliminarySpecifications
source:
TmoNews