Kindle for Android turns the page to version 2.0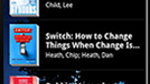 If you enjoy using your Android phone and the Kindle for Android app to catch up on your reading, you will love the changes made to version 2.0 of the e-reader application. If you haven't been able to decide which of your apps to remove to make room for the Kindle, the good news is that you don't need to make that decision anymore as the app can now be stored on your microSD card.
With the new build of the Kindle for Android, you will have access to over 100 newspapers and magazines that you were unable to read before. The new version also includes integration with social networking sites allowing you to share with friends and family the progress you have made with the book you are currently reading.
Your handset's hardware now plays a part in navigating around your reading material as the phone's volume rocker can help you find your way around what you are reading, and a double tap-to-zoom option lets you to move in closer to view words and pictures that were unreadable before. And thanks to an upgraded UI, the Kindle's status bar will now display the chapter of the title that you are currently reading.
Version 2.0 of the Kindle for Android is now available as a free download from the Android Market for models running Android 1.6 or higher.
source:
Amazon
via
androinica