Jolla releases first "The Other Half" smart cover replacements with customized goodness built-in
7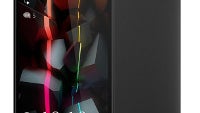 Apart from the inherent appeal of its beautiful, gesture-based Sailfish OS, the Jolla team also marketed the ability of their first smartphone to shed off its rear cover at will and allow you to change the color of your Jolla phone. Dubbed "The Other Half", only a white back cover was available at launch, but this changes today, as Jolla has added an aloe-green and black color options to the mix. Each cover costs €29, or about $39.
Pricey as they might be, these are actually more than looks suggest. Thanks to an embedded NFC chip, the scratch-resistant other halves instantly change the user interface and experience when attached to the device itself. Jolla was actually quite ambitious before the phone was even launched, and talked of the possibility of producing the polycarbonate covers with things like a QWERTY-style physical keyboard built-in, or a giant, additional flash, but these first two models unfortunately do not deliver on that promise. Instead, attaching one of the covers will instantly change up things like your wallpaper and ringtone and system sounds. It may not sound like much, but we have to admit these are still looking very stylish, and we're liking where Jolla is heading for the time being.
Lastly, the Finnish company has also released a dev kit for "The Other Half", which will hopefully spur creativity among the dedicated Sailfish developer community. This means that these covers can, in the future, apply different settings to the phone once they're attached, but only time show.