Is Samsung pushing the panic button on the Samsung Galaxy S5?
88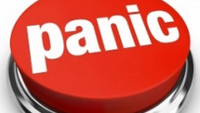 On Wednesday,
Samsung pushed out the top man on the mobile design totem pole
and gave him a new position running the company's design team. While a specific reason for the move wasn't mentioned, there is talk that the Korean based manufacturer is unhappy with the sales performance of its new flagship phone. It could be that the expectations at Samsung are high. After all, reports indicate that the
Samsung Galaxy S5
is outselling last year's
Samsung Galaxy S4
.
Still, it should be noted that last year,
Samsung announced that it had sold 10 million units of the Galaxy S4
just 26 days after launch. Today is the 28th day since the Galaxy S5 was launched, and Samsung has been mum on its sales.
Earlier today, we told you about a report from mobile ad network site Chitika, that showed
the new flagship accounting for 4.3% of Samsung's U.S. web traffic
25 days after launch. That was more than double the 2% of Sammy's web traffic that the Galaxy S4 commanded 25 days after its launch. The IP67 certification, the built in heart rate monitor and the embedded fingerprint scanner are some of the changes in this year's model.
Yet, despite the positive start that the phone has had, there is a feeling of unease at Samsung. While the Galaxy S5 is surely outselling the
HTC One (M8)
, the latter model appears to have a higher quality build. According to Nick Spencer at ABI Research, Samsung isn't really looking at sales figures. Instead, the manufacturer is focusing on negative feedback.
"The design has been consistently commented on for the last two or three years, especially the lack of high-end materials. The Galaxy S family is still successful, so Samsung must be doing something right. But the fact is that the design doesn't have a quality feel."-Nick Spencer, ABI Research
There are rumors that Samsung will be pushing out a premium version of the Galaxy S5 with a metal body, and a 5.2 inch screen with QHD resolution. Will this help Samsung brass stop listening to its critics and focus more on the sales of the line? Or is there a bit of jealousy in the Samsung boardroom toward the build quality of the HTC One (M8)?
source:
Forbes