The Galaxy S5 surpasses the Galaxy S4 in terms of adoption rate in the USA
23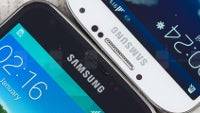 In two days' time, on May 11, Samsung's
current flagship
will have been available on the market for exactly a month. We do know that the first day sales of the Galaxy S5
were significantly higher than the first day sales
of Samsung's last year forerunner, the
Galaxy S4
. At the same time, the
launch weekend sales of the device also beat the ones of its greatest rival
, the
Apple iPhone 5s
. All of these facts indicate that although it received a fair amount of critique, the Samsung Galaxy S5 would probably break a sales record or two and become one of the best-selling gadgets of 2014, just like its predecessor.
In this line of thought, it is quite curious to compare the overall adoption rates of the two devices, the S4 and the S5, for a bigger amount of time and see if the trend is still present. Luckily, the folks at Chitika, an online advertising network, released a statistical report that gives us more insight on the matter. According to Chitika, the Galaxy S5 accounted for 4.3% of all Samsung smartphone web traffic in North America just 25 days after it got launched, from April 11 throughout May 5. Can you guess how the Galaxy S4 fared for the same amount of time back in 2013, from April 25 to May 19? Well, the former flagship was responsible for just 2% of the web traffic.
Pretty impressive, right? We should also take into consideration that nowadays the smartphone market is more saturated with high-end smartphones than it was a year ago, which makes Galaxy S5's
market penetration even more spectacular
.
Chitika also points out some of the factors that could be driving the Galaxy S5's sales forward. Apart from the popularity of the Samsung brand, the big 5.1-inch display and the
IP67 dust- and water-resistance
also made the Galaxy S5 quite appealing to the mass consumer.
The Galaxy S5 will undoubtedly be one of the hits on the smartphone market this year, but Samsung's rivals won't stay idle – on the contrary, their smartphones are going to fight tooth and nail with the Galaxy S5 for a bigger share of the market.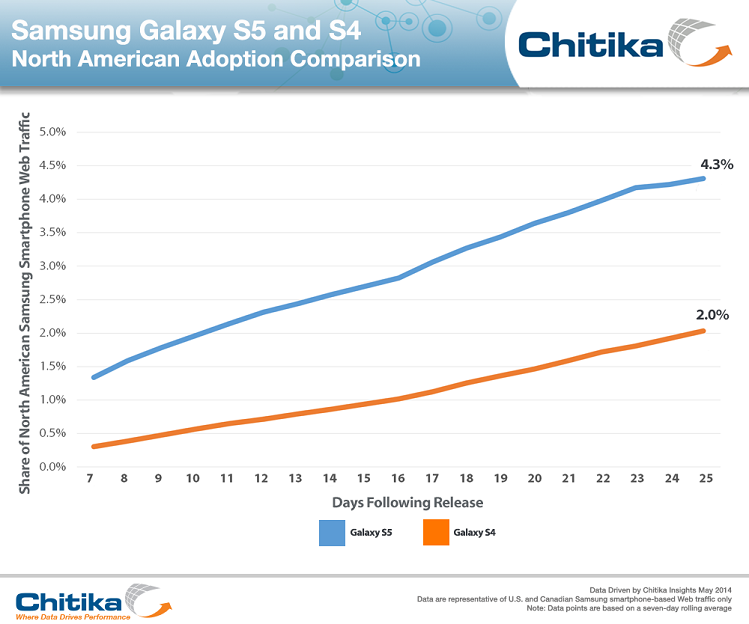 source:
Chitika
via
BGR