India led the way in the number of net new mobile users during the first quarter
8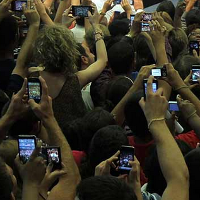 According to a report released by Ericsson, India was the fastest growing nation when it came to adding net new mobile users for the first quarter of this year. From January through March, the country had 26 million net new mobile subscribers. During the three month period, there were a total of 108 million net additions to the number of mobile users globally. This means that India accounted for 24% of the world's new mobile subscribers during the quarter. Overall, there were 7.2 billion mobile users during the first quarter of 2015.
Ericsson pointed out that in mature markets where smartphone penetration is high, growth came from an increase in the number of devices owned by each individual. In developing markets, growth came from new mobile subscribers taking advantage of lower prices. Developing regions are where the action will be according to the report. "
Almost 80 percent of smartphone subscriptions added by year-end 2020 will be from Asia Pacific, the Middle East, and Africa
," Ericsson said.
With the proliferation of smartphones, it is no surprise that Ericsson sees a surge in the use of mobile data. The report says that in North America, the monthly 2.4GB of data consumed now by the average mobile user will soar to 14GB by 2020. 80% of the demand for mobile data will come from smartphones. In addition, every year from now to 2020, mobile video traffic will rise 55% annually. By the end of 2020, video will constitute 60% of all mobile traffic and users will favor streaming video as a way to obtain the latest news and social media. Following suit, of course, a larger percentage of mobile ads will be delivered by streaming video when 2020 arrives.
via:
BGR