Inbox "Highlights" now let senders surface useful information in an email and throughout Google
8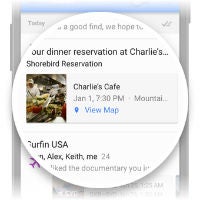 Inbox by Gmail is one of the coolest new apps right now. It is an
evolution
of what email can be, making your inbox into a to-do list, and designed to help you
take action
on each message that requires something to be done. One of the best ways it does this has just been given a name, Highlights, and Google is telling email senders how to surface useful information.
We've talked about the feature before as akin to Google Now functionality, because right now it will surface options for tracking a package, checking in to a flight, or responding to a calendar invite. But, Google wants to give senders more power in having useful information shown before someone even opens an email with the "Highlights" system. For example, an email from a restaurant could surface reservation information to add to your calendar, get directions, and more.
And, maybe best of all, any information surfaced will be able to easily interact with Gmail, Google Now, Google Search, and Maps, as well as Inbox. So, it will make it easier for you to find relevant information, and make it easier for Google to serve you that information without you looking for it. This "Highlights" system could be very nice for businesses and customers alike, but we'll have to wait and see how quickly businesses adopt the extra markup.