IFA 2015: here's what to expect
33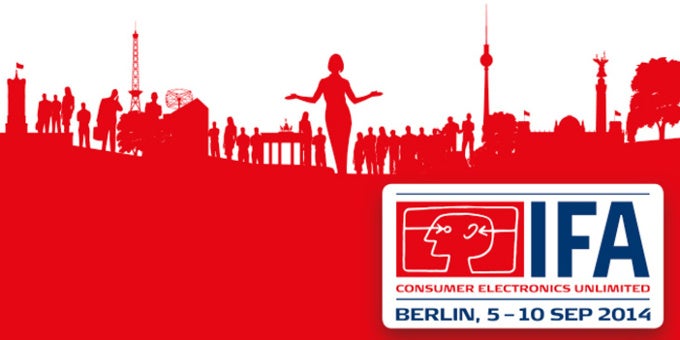 It is that time of the year again! The halls and floors of Messe Berlin are already being readied for one of the year's biggest tech exhibitions – the Internationale Funkausstellung Berlin, better known as IFA. It is where the world's leading tech companies reveal their newest products for the first time. Yes, that includes smartphones, tablets, and wearables – the kind gadgets we're most excited about – meaning that we'll be keeping a really close look at the entire show. In fact, we'll be attending it.
So, what makes IFA 2015 worth being excited about? What are the devices expected to be announced at the event? Well, we're not entirely sure at this moment, but the leaks and rumors floating around the web can give us a somewhat clear indication as to what's in stock.
Samsung
Traditionally, Samsung's booth at IFA has been one enjoying plenty of attention. And it is always a big one, too, where anything from washing machines and fridges to TVs and stereos is being shown off. Needless to say, the recently-announced Samsung Galaxy Note5 and Galaxy S6 edge+ will be on display as well. But we know them in and out already. Is there anything newer coming up? Yes, of course.
At IFA 2015, Samsung will announce a new wearable device – the
Samsung Gear S2
. It is the smartwatch we got to see for a few brief moments during last week's Unpacked event. Not all its specs and features are known at this time, but we do know that it will have a circular touchscreen display and that the
UI will most likely be navigated by turning a ring surrounding the screen
. Oh, and it will be a Tizen device, not one powered by Android Wear.
Furthermore, rumor has it that Samsung is working on a new line of smartphones. It is only referred to as the
Galaxy O series
at this time, which is a rather odd letter choice, if you ask us. But it might have been chosen for a good reason. Allegedly, the Galaxy O phone(s) are being developed in collaboration with Oculus and will be designed to deliver virtual reality experiences. Speaking of VR, we won't be surprised if Samsung announces
Gear VR headset variants compatible
with the
Samsung Galaxy Note5
and
Galaxy S6 edge+
.
LG
LG is rumored to be working on one of the
two upcoming Nexus
smartphones, but IFA doesn't seem like the right place for the handset to be announced. That is most likely to happen at a Google event, alongside the launch of Android Marshmallow.
Another clue we have is that LG is working on a "
super premium phone
", which is to be released in the year's second half. Some speculate this could mean the revival of the Pro series. On the other hand, we might witness the launch of an
LG phone with a curved screen
– a competitor to the
Galaxy S6 edge
,
S6 edge+
. But the chances of either happening at IFA seem quite low, as there have been no leaks confirming the existence of these phones.
LG smartwatch cleared the FCC
, suggesting that the second-largest South Korea-based maker might unveil such a wearable at the trade show in two week's time.
Sony
Last month, Motorola refreshed its portfolio by releasing not one, not two, but three phones - the third-gen Moto G, the Moto X Style (also known as the Pure Edition in the USA), and the Moto X Play. Thus, we don't expect any new Motorola device to make the rounds at IFA 2015.
Microsoft
Everything but Lumia smartphones, it seems.
BlackBerry
Asus
Let's not forget that Asus also has a smartwatch, the ZenWatch, and there's always the chance that the company might unveil a successor to the wearable.
Huawei will host its IFA event on September 2.
ZTE
Lenovo
Alcatel
While we've heard anything on Alcatel's end, this Android manufacturer is usually unveiling a couple of devices at almost each and every expo it's attending. It will be totally unsurprising if Alcatel does the same at IFA 2015 in Berlin.
Acer
Similar to Alcatel, Acer is a manufacturer that takes its trade show and expo game rather seriously and usually preps a handful of product announcements. The rumor mill claims that Acer will have a prominent and rather interesting presence at IFA 2015, rumored to have no more or less than four smartphones running on Windows 10 for phones, which is due out in late October/early November. While we have no other leaks about the handsets in question, it is extremely likely that at least one of them will be an entry-level trooper.