IFA 2015: here's what to expect
33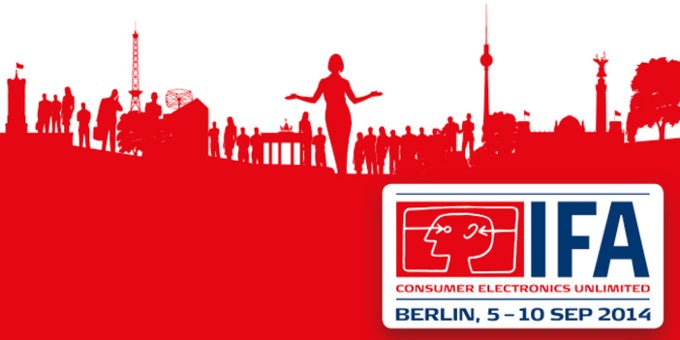 It is that time of the year again! The halls and floors of Messe Berlin are already being readied for one of the year's biggest tech exhibitions – the Internationale Funkausstellung Berlin, better known as IFA. It is where the world's leading tech companies reveal their newest products for the first time. Yes, that includes smartphones, tablets, and wearables – the kind gadgets we're most excited about – meaning that we'll be keeping a really close look at the entire show. In fact, we'll be attending it.
So, what makes IFA 2015 worth being excited about? What are the devices expected to be announced at the event? Well, we're not entirely sure at this moment, but the leaks and rumors floating around the web can give us a somewhat clear indication as to what's in stock.
Samsung
Traditionally, Samsung's booth at IFA has been one enjoying plenty of attention. And it is always a big one, too, where anything from washing machines and fridges to TVs and stereos is being shown off. Needless to say, the recently-announced Samsung Galaxy Note5 and Galaxy S6 edge+ will be on display as well. But we know them in and out already. Is there anything newer coming up? Yes, of course.
At IFA 2015, Samsung will announce a new wearable device – the
Samsung Gear S2
. It is the smartwatch we got to see for a few brief moments during last week's Unpacked event. Not all its specs and features are known at this time, but we do know that it will have a circular touchscreen display and that the
UI will most likely be navigated by turning a ring surrounding the screen
. Oh, and it will be a Tizen device, not one powered by Android Wear.
Furthermore, rumor has it that Samsung is working on a new line of smartphones. It is only referred to as the
Galaxy O series
at this time, which is a rather odd letter choice, if you ask us. But it might have been chosen for a good reason. Allegedly, the Galaxy O phone(s) are being developed in collaboration with Oculus and will be designed to deliver virtual reality experiences. Speaking of VR, we won't be surprised if Samsung announces
Gear VR headset variants compatible
with the
Samsung Galaxy Note5
and
Galaxy S6 edge+
.
LG
LG is rumored to be working on one of the
two upcoming Nexus
smartphones, but IFA doesn't seem like the right place for the handset to be announced. That is most likely to happen at a Google event, alongside the launch of Android Marshmallow.
Another clue we have is that LG is working on a "
super premium phone
", which is to be released in the year's second half. Some speculate this could mean the revival of the Pro series. On the other hand, we might witness the launch of an
LG phone with a curved screen
– a competitor to the
Galaxy S6 edge
,
S6 edge+
. But the chances of either happening at IFA seem quite low, as there have been no leaks confirming the existence of these phones.
Last, but not least, we shouldn't rule out the possibility that LG could unveil a new wearable. Just two days ago, an unannounced
LG smartwatch cleared the FCC
, suggesting that the second-largest South Korea-based maker might unveil such a wearable at the trade show in two week's time.
Sony
When it comes to Sony, we are always expecting something interesting to get unveiled. The current subjects of our desires are the Sony Xperia Z5 and Z5 Compact, two devices that have allegedly
leaked quite extensively
. Even the promo image of said devices allegedly leaked, suggesting that their announcement could be imminent and somewhat tied with the
upcoming James Bond movie, Spectre
.
The
Sony Xperia Z5 also leaked in full glory
in a video, according to which it might end up being the first phone in the world to come with a 4K display and have the ludicrous pixel density of more than 800ppi. As a reminder, Sony's keynote is scheduled for September 2.
Sony just announced the SmartBand 2, and it is somewhat plausible that we might see a new Sony-made smartwatch at IFA 2015. Although we've heard close to nothing about such a device, we should have in mind that surprises should always be expected.
HTC
HTC is having some hard times at the moment, but this doesn't mean we shouldn't keep an eye on it. Just yesterday, the full specs of an purportedly
upcoming HTC flagship appeared
- on paper, the
HTC O2
looks just like the "hero" device the company needs in order to stay afloat. Then again, we wouldn't hold our breath to see said phone at IFA 2015. It's also pretty illogical to expect a new flagship smartphone, a successor to the One M9, at the trade show.
Of course, this doesn't mean that HTC won't treat us to anything new; after all, HTC is still among the more popular manufacturers that operate on the global market. Hence, we might expect a few new phones from the Desire or Butterfly lineups to pop up - we laid eyes on a mysterious unannounced device some time ago, and while nothing about it is known at this point, there's always the chance it might pop up at IFA 2015. Additionally, the
HTC Desire 728
is another candidate for a possible IFA 2015 debut, and so is the
Desire 828w
.
Motorola
Last month, Motorola refreshed its portfolio by releasing not one, not two, but three phones - the third-gen Moto G, the Moto X Style (also known as the Pure Edition in the USA), and the Moto X Play. Thus, we don't expect any new Motorola device to make the rounds at IFA 2015.
But what about a new wearable? Ever since the Moto 360 launched, Motorola has been seemingly idle on the wearables market, allowing most of its rivals to catch up and release a couple of smartwatches on its own. IFA 2015 seems like the perfect moment for Motorola to show us the second-gen Moto 360. Judging by the rumors, the wearable might be available
in two different sizes
, similar to the Apple Watch, and will likely still feature the
flat tire design
of the original Moto 360, which was a chief reason for the flak the latter received.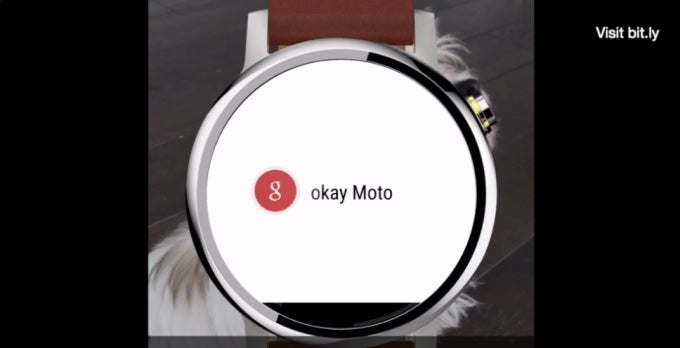 Motorola Moto 360 alleged successor
Microsoft
When it comes to Microsoft, we're always expecting something. We've already lost count on the numerous speculations about Redmond's next smartphone flagship, a device to fully showcase Windows 10 for phones. Well, amid the
newly-surfaced rumors
that Microsoft is planning a grand event in October at which we will see the Lumia 950 and Lumia 950 XL announced, as well as a brand-new Surface Pro 4 tablet, a Band 2 wearable, and a Mini variant of its Xbox One console.
As we are dealing with rumors, we can never know for sure what Lady Luck and in this case, Microsoft, have in store for us. Therefore, the giant's presence at the trade show leaves the possibility for a handful of new devices open. Notice how we said "devices" instead of "smartphones"? Well, the official press release regarding the company's IFA event that is scheduled for September 4, 3PM CET, suggests that we will see
"a breadth of new Windows 10 devices, including tablets, 2-in-1s, premium notebooks, gaming devices and all-in-ones"
.
Everything but Lumia smartphones, it seems.
BlackBerry
Although it's pretty uncertain, we are somewhat inclined to believe that IFA 2015 will be the grand podium where BlackBerry will unveil its QWERTY slider with curved screen that is powered by Android, the
BlackBerry Venice
. In this day and age, sliding smartphones are totally not common, and an Android-running one with a screen that shares some common features with Samsung's Galaxy S6 edge and S6 edge+ can only be seen once in a blue moon.
We expect the Venice to feature a 5.4-inch screen with curved sides, a 1440 x 2560 QHD resolution screen, a Snapdragon 808 SoC, 3GB of RAM and an 18MP rear camera with OIS. Of course, these are just rumored specs and are a subject to change, but from the looks of it, the Venice is real and is reportedly launching on all four major carriers later this year. We will be keeping a close eye on it.
Asus
Asus is the latest of the better-known smartphone makers to reveal that it will be attending the trade show. The press event is scheduled for September 2, and Asus hints at a few products that will likely debut - the ones that are of interest for us are the smartwatch that was clearly shown and probably the smartphone that was being hinted by showing its rear-positioned volume rocker. We've been hearing here and there about an
unannounced Asus ZenFone device
that has already been certified in China and might just get unveiled at this year's IFA.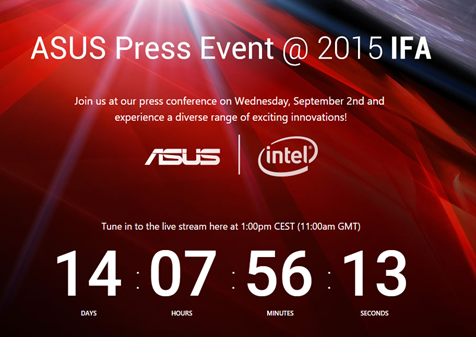 Renders and specs of the phone have already been leaked, hinting that this Asus device is a mid-range one. It might end up being the one showed in Asus' teaser for its event. We expect to see it unveiled in two weeks' time, but it will most probably not be the only one to debut.
Let's not forget that Asus also has a smartwatch, the ZenWatch, and there's always the chance that the company might unveil a successor to the wearable.
Huawei
One of the major China-based smartphone makers, is a regular IFA participant. This year, the most probable star of the show will most certainly the
Huawei Mate S
(also rolling under the Mate 7S and Mate 8 names), a new member of the Mate lineup that is rumored to come with
truly sizzling hardware specs
. It's not the only rumored Huawei device that will likely get announced, though - there's also
another Huawei handset
that recently made the rounds in our news section and is also a possible candidate for an early-September debut.
Who knows, we might be dealing with two version of one or the same device - this won't be the first time a manufacturer outs two predominantly similar, yet distinguishable smartphones at the same time (we're looking at you, Samsung). On a related note, we also got hold of some rumors claiming Huawei might be having
a curved-screen phone
in the pipeline.
Huawei will host its IFA event on September 2.
ZTE
With phones like the
Axon Pro
,
Axon Lux
,
Blade S6
,
Nubia Z9
, and others, ZTE is certainly trying to establish itself as one of the smarpthone makers that are not afraid to experiment. Certainly, this China-based phone slinger announced a respectable number of devices during the past few months, but this is totally not a reason for it to skip IFA 2015 altogether. On the contrary, we expect to manufacturer to be present on the halls of the trade show and show at least one new device.
While we haven't had any particular leaks about a ZTE phone that looks like it might get announced as soon as IFA 2015, there's always the chance that the company might surprise us with a batch of new smartphones or a device like its Android-powered LTE smart projector, the
ZTE Spro 2
.
Lenovo
Judging by the recent leaks, Lenovo might end up being the manufacturer behind the world's first smartphone (allegedly called the Vibe S1) with a
dual front-facing camera
. While the reason for such an unorthodox selfie setup is still a bit unclear, it's quite logical that Lenovo might use IFA podium and introduce this world's first device before the audience.
Apart from the Vibe S1, it has also been whispered that we might also see a
Lenovo Vibe P1
and/or a
Vibe P1 Pro
unveiled at the expo. The main selling point of this device will most likely be the humongous 5,000mAh battery at the rear, but the rest of the rumored specs are mid-range to the bone. Another device that might possibly get unveiled is the
Lenovo Vibe X3
, the highlight of which might be the dual front-facing speakers and a Hi-Fi 3.0 software package for improved audio experience.
Alcatel
While we've heard anything on Alcatel's end, this Android manufacturer is usually unveiling a couple of devices at almost each and every expo it's attending. It will be totally unsurprising if Alcatel does the same at IFA 2015 in Berlin.
Acer
Similar to Alcatel, Acer is a manufacturer that takes its trade show and expo game rather seriously and usually preps a handful of product announcements. The rumor mill claims that Acer will have a prominent and rather interesting presence at IFA 2015, rumored to have no more or less than four smartphones running on Windows 10 for phones, which is due out in late October/early November. While we have no other leaks about the handsets in question, it is extremely likely that at least one of them will be an entry-level trooper.