Sony Xperia Z5 makes brief video appearance (UPDATE TO FULL LENGTH VIDEO)
72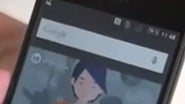 If a few seconds of seeing the
Sony Xperia Z5
in action is enough to give you goosebumps, check out the video that accompanies this story. The Xperia Z5 and two other variations of the phone are
expected to be unveiled at a media event being held by Sony on Wednesday
. But before that could go through, a Sony marketing executive from France straight-up confirmed, in the video below, that the Sony Xperia Z5 Premium is real, and is going to have the world's first 5.5-inch 4K smartphone screen. Possibly
made by Sharp
, the screen's pixel density adds up to some 805 pixels per inch.
To those worrying about all those extra pixels taking their toll on battery life, consider that it's very likely that 4K resolution is only triggered while viewing actual 4K resolution multimedia content. The Z5 Premium will stay at a lower resolution, either 1080p or 1440p, for the majority of daily use.
All three Xperia Z5 models whose announcement at IFA we're awaiting
will have a new 23MP rear camera
and a fingerprint scanner. The latter will be located along the right side of the phones, which forced Sony to put the power button and volume rocker further down the side of each model. And of course, each of the three phones will offer the dust and water proofing feature that has become a trademark of the Xperia Z line.
All three models will be powered by the Snapdragon 810 SoC, which means that they will feature an octa-core CPU and the Adreno 430 GPU. Back in June,
Sony admitted that the Snapdragon 810 was running into overheating issues
with the
Sony Xperia Z3+
and Sony Xperia Z4. Users complained that their phone would heat up while watching Netflix in HD, filming a video, or while playing video games. A run through the CPU-Z system identification tool by the Xperia Z4 showed the device running hot at 154 degrees fahrenheit.
Perhaps Sony will address the issue with the Snapdragon 810 chipset on Wednesday. But go ahead and put all of that out of your mind so that you can enjoy this clip of Sony's new, screen resolution-busting flagship handset.
Recommended Stories