LG Nexus 5 (2015) renders and video claim 5.2-inch screen, rear-mounted fingerprint scanner
35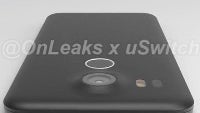 Hang around this industry long enough, and you'll start picking up on things you simply weren't paying attention to before. Like rumors and leaks. Unconfirmed, often uncredited, and sometimes downright dodgy-looking/sounding. And yet, we've come to
know
that when there's enough smoke coming from one particular direction, there's usually fire simmering just beyond our grasp.
Such is the case with the Nexus line, which, rumors have it, is coming strong in 2015 with two whole devices. Indeed, word on the street is that both LG and Huawei have been tasked with creating one model each — the former a more traditional, 5.2-incher, and the latter a large phablet. We've been hearing a lot about these two, specifically the former, and today marks an important event: our first set of well-made renders and video of the device.
Courtesy of
uSwitch
, who partnered with serial leakster
@OnLeaks, "the renders are based on detailed factory schematics provided to accessory-makers".
Since these are used to ensure compliance with products such as cases, which have to account for various slots, openings, and buttons, these are obviously highly valuable as they tell us quite a lot about the smartphone in question. That is, as long as they're legit, which we just don't have a way to confirm right now, so keep that saltshaker handy.
Anyways, the works available right below reveal (and confirm) several key specifics concerning the Nexus 5 2015, including a 5.2-inch display, a rear-mounted fingerprint scanner, and even a set of front-facing stereo speakers. The blueprints also show a reversible USB Type C port on the bottom, along with dimensions of 5.78 x 2.87 x 0.31 inches (146.9 x 72.9 x 8 mm), growing to 0.38 / 9.8mm at the thickest part — the protruding camera. The source notes that the schematics used reveal nothing concerning the build materials used with the construction of the phone, though a previously rumored metal-frame-on-plastic-body was suggested once again.
Traditionally, Nexus devices have been announced in the latter half of October every year, and if Google is planning on sticking to that schedule, that gives us exactly 2 months until an official reveal could happen at any moment (Nexus announcements are a quiet affair).