How to change fonts on Android with or without root
6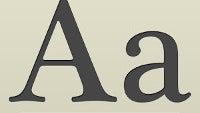 If you've been following
our How-to section
, by now you'll be aware that there are quite a few things you can change up about the way your Android device looks and operates. For example, you can install a launcher that will change
the look of your homescreen
, app drawer, and notification bar, change
icons
,
boot animations
, and more.
Today, we thought we'd fill another blank -- system fonts. Indeed, changing the font of your device could be quite a big deal, especially if you're trying to get your UI to look exactly as you feel it should. In other words, your new dark-ish theme will probably look far snazzier with a
Gladifilthefte font
. Or something else entirely.
In any case, we're here to help, and, thankfully, there's a way to change fonts even if you're not rooted, though there are obviously more limitations that way. Either way, we've prepared two guides, found in the two slideshows below, and they should both see to it that all your font needs are taken care of. Jump right in.
Recommended Stories