10 great icon packs to liven up your Android
30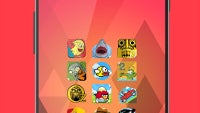 We'll be repeating ourselves here, but we just can't say no to the endless stream of customization options that Android offers. Chief among those, in our opinion, is the ability to visually tweak away and create a UI that is yours and yours alone, and the various icon packs are one of the most profound ways to go about that.
We've picked 10 icon packs for you to choose from, and we put great care to only select the really good ones. That said, we're not at all saying that these are the best -- there just are
so many
of those right now, that we wouldn't be able to go through all of them even if we spent an entire day browsing the web. What we have here is still pretty great, though.
Now, there's a catch, like most things Android modifications. For these to work, you'll need to be using a qualifying launcher, though we'll be showing you pretty soon how to get icon packs working with the stock launcher. But that's a fight for another day. Regardless, seeing as launcher apps are massively popular, we'd say these will work for a great many of you, so jump right into the slideshow below and take your pick.