Honor 8 update adds 3D panorama mode, lots of new features
7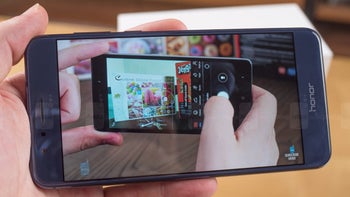 Despite the fact that
Honor 8 will not be updated to Android 8.0 Oreo
, the smartphone keeps getting new features and improvements. It's true that the Chinese company may change its mind and decide, by popular demand, that the Honor 8 is worth of a major software upgrade, but until then, let's see what the newest update brings into the mix.
First off, there's a new 3D panorama mode that will allow Honor 8 owners to shot 3D dynamic images. The new mode can be accessed via the Camera app, so you'll have no issues in triggering it whenever you want.
Another important addition to the
Honor 8
's software is a new security feature that requires users to enter their lock screen password every three days. Apparently, this will make you remember your password much easier.
Also, there's a new recycle bin feature added to the Gallery so that you can keep deleted photos for up to 30 days. In case you change your mind, you can move the pictures from the recycle bin to the Gallery again.
Finally, a new split-screen key is now available on the Facebook instant message banner that enables you to enter
split-screen mode
with a single touch without having to leave a video when in full-screen viewing.
According to Honor, the update optimizes a couple of things, such as the App twin feature, which has been fine-tuned to support logging in with two accounts for certain apps. Furthermore, the burst shooting stability of the camera has been optimized, along with the overall power consumption for extended use.
It's also worth mentioning the latest
Google security update (January)
is included in the update as well. Although the update isn't supposed to erase any of your personal data, it's recommended to back up anything important that have on your phone.