Honor 8 Review
56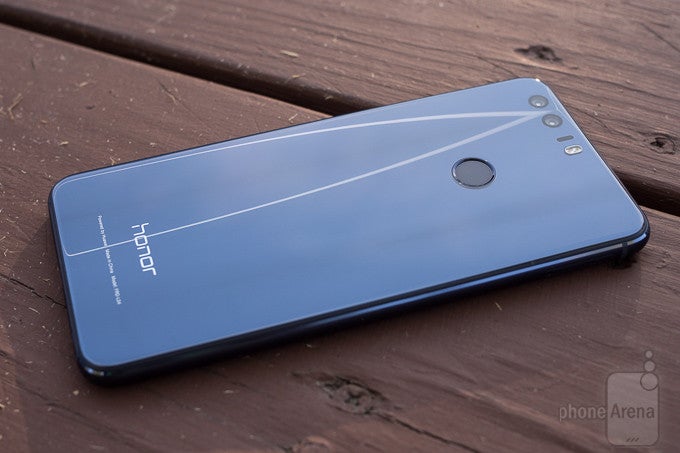 Introduction
To say that Huawei is a big deal in the smartphone market is nothing short of an understatement, but despite the company's unquestionable international success, to say nothing of its recent market growth, it's been slow to use that momentum to create a strong US presence.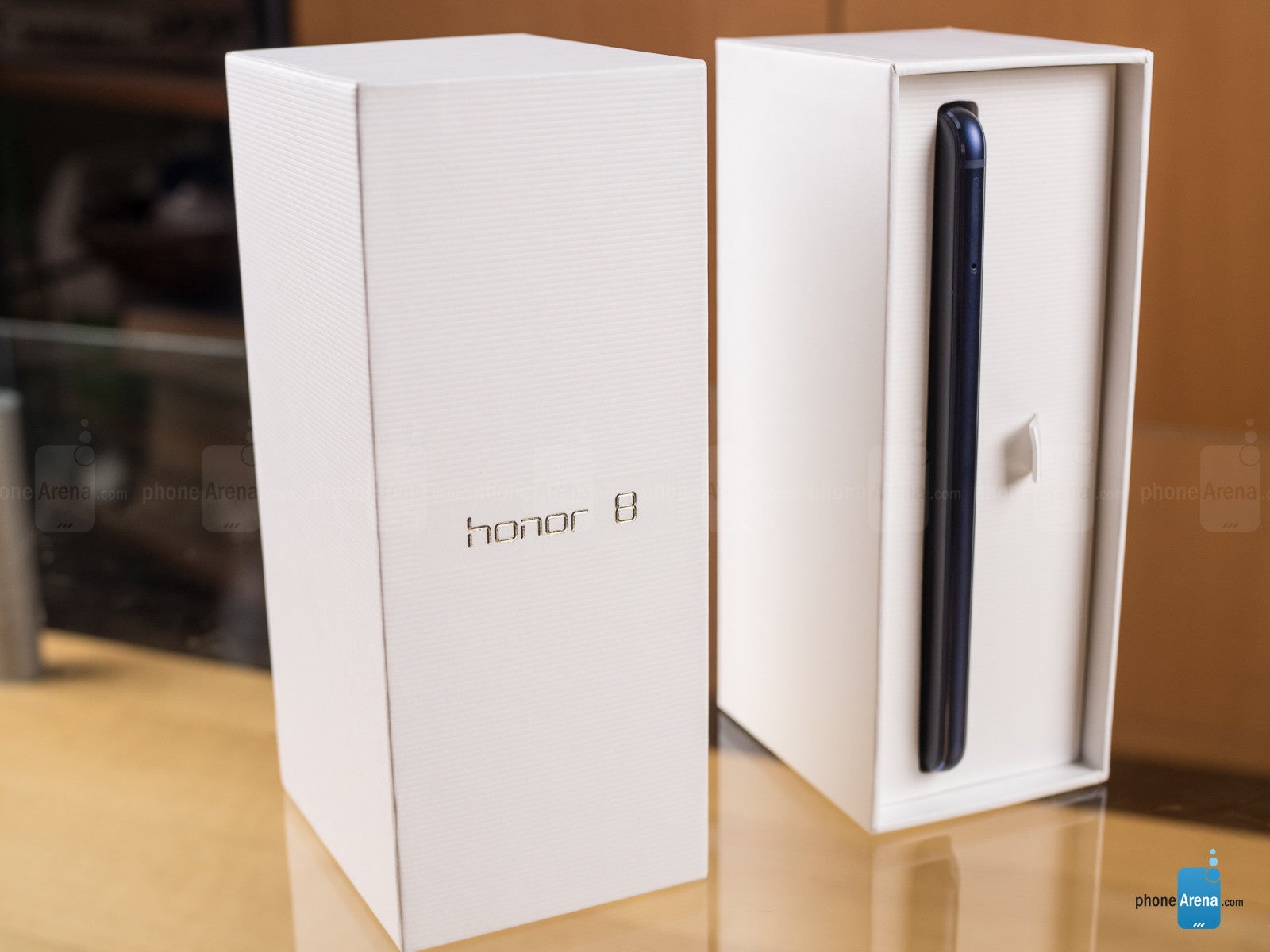 That situation's beginning to change – at what feels like a glacial pace – and not just for the main Huawei name. The company's also turning the spotlight on some of its sub-brands, and today we're taking a look at the latest as it gets ready to make its US retail debut, the dual-camera-equipped stylish Honor 8.
In the box:
Honor 8
USB Type-C to standard A cable
Fast charging adapter
Warranty card
SIM tool
Design
The Honor 8 doesn't push the envelope much with any daring new design, instead giving us the sort of rounded-edge handset we've seen dozens of times before. If you've held an
iPhone 6s
, or an
HTC A9
, you know the basic shape we're talking about. Huawei does try and mix things up a little by pairing that curved-edge metal frame with both front and back glass, giving the phone a smooth, symmetrical look. Whether that's a better choice than a metal-backed phone may tap into personal preference, but the resultant look is pretty darn stylish, helped out by a 15-layer "light-catching finish" for the back that plays with ambient light in a way that looks great on the blue handset we took for a spin.
That smooth design is reinforced by a back panel free of obstructions. There is a fingerprint scanner mounted in the center, but it sits recessed in the surrounding glass, with no lip standing out. And while Huawei's crammed in a pair of rear 12MP cameras, there's no camera bump to be found – the whole camera assembly sits flush. Measuring in at 7.45mm thick, the Honor 8 is far from the thinnest phone we've ever seen, but pulling all that off without any extra bulges is still a development we're happy to see.
Down below, we've got the phone's speaker grille, headphone jack, and USB Type-C port, while up top you'll find an IR transmitter – an increasingly rare find on modern phones.
Display
No quad HD we can live with, but is it too much to ask for a screen with neutral color temperature?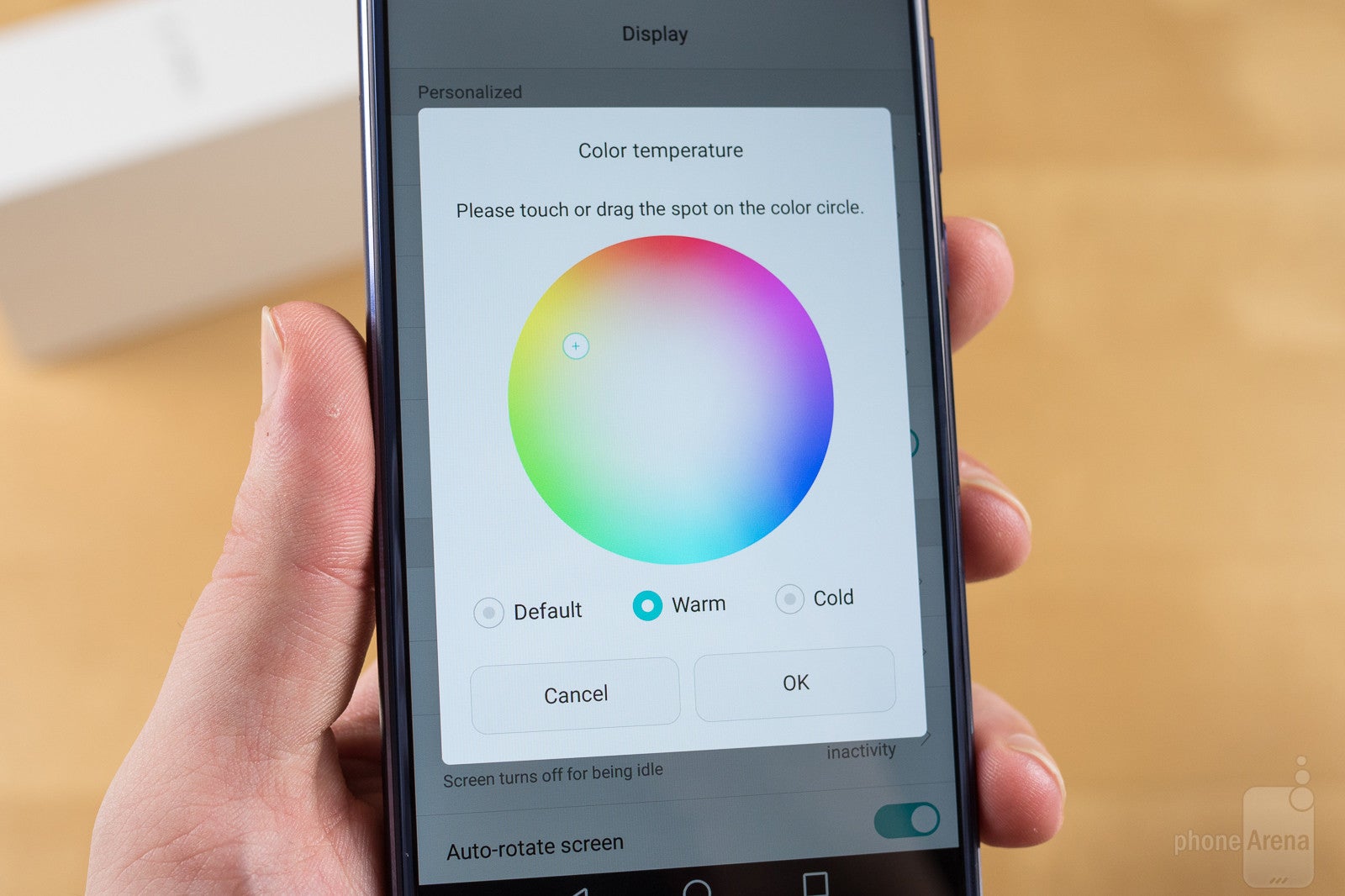 Huawei's not out to make a name for the Honor 8 with a fancy display. The utilitarian 5.2-inch 1080 x 1920 panel doesn't pretend to be anything its not, instead giving us a functional, adequately sharp screen. If that sounds like less than glowing praise, it's because while we found the Honor 8's display to be by-and-large fine, it did have a couple issues that stood out in our tests.
While the phone's screen is capable of some solidly bright output, helping with outdoor visibility, the Honor 8's software makes it difficult to adjust with much specificity. If you keep things in auto mode, maybe that's alright, but we found the screen's brightness jumping from "kinda bright" to "really bright" with little play in between. That's no deal-breaker, but we'd love to see a little more finesse present.
Then there's the issue of color temperature. The Honor 8's software helpfully gives users a lot of control over adjusting the tone of the display output, and in addition to pre-set warm and soft modes, you have full control to dial-in a white-point of your own. But even there, you're going to have to make concessions, as the supposedly neutral white that acts as the zero point of these adjustments is itself heavily shifted towards cooler blue shades.
Speaking of blue, though, the Honor 8 joins the club of phones seeking to alleviate eye strain and improve circadian rhythms by implementing an "eye comfort" mode, filtering out blue light at night. Given how cool the screen is to start with, that's just a little ironic.
Display measurements and quality