Here's how you can draw a portrait with the S Pen on the Samsung Galaxy Note in a couple of minutes
15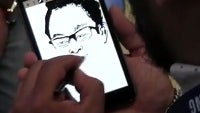 Here's one
more reason
why you should regret that the
Samsung Galaxy Note
is not initially planned for a release stateside - drawing. You might remember that the 5.3-inch kingsize smartphone flaunts a dual-core chip, but tucked neatly in its slim body is the S-Pen, a capacitive stylus which does make a difference. If you can use it properly, that is, and that's exactly what this Samsung employee demoes in the video below, casually sketching a portrait in just a couple of minutes on the Galaxy Note.
Notice the plentiful options in the
drawing app
, the way you can change the thickness and colors of the pen input.
"Technology alone is not enough. It's technology married with liberal arts, married with the humanities, that yields us the result that makes our heart sing,"
a man once said. You've probably heard that Steve Jobs quote, which he uttered in response to a Bill Gates' call for more engineers. It seems that Samsung has heard it as well, don't you think?