Samsung Galaxy Note hits an impressive Quadrant score of 3,624, pricing revealed
25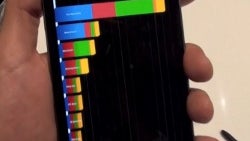 The
barely holdable
, supersized phone that is the
Samsung Galaxy Note
packs not only a huge 5.3-inch screen, but also a dual-core 1.4GHz Samsung-branded processor. But having just the pure number, you wouldn't know just how good the whole system performs - a task probably best measured on Android by the
Quadrant
standard benchmark.
Folks over from Techblog.gr took the huge smartphone for a spin on the showroom floor at IFA and the Galaxy Note
scored an impressive 3,624
in the application, ranking it on par with the Samsung Galaxy S II and putting it in the forefront of Android smartphones performance-wise. Check out the video below to see for yourself - the benchmark starts around the 5:07 mark.
Initially, the Galaxy Note isn't expected to land in the States, but in the UK it's expected to arrive as soon as Q1 2012. Samsung has also revealed details about the
pricing
of the new superphone
in Scandinavian countries
including Sweden, Norway, Denmark and Finland. There, the Galaxy Note is awaited even earlier, in November, carrying a price tag of the whopping $1,060 (750 euro) off contract, slightly varying across countries, but that's the price you pay for innovation.