Here is another iPhone game controller case, but does not need batteries or Bluetooth
23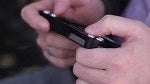 This controller sets itself apart from the pack with no batteries and no Bluetooth. It is a really neat concept that utilizes the capacitive connection that most on-screen games rely on when playing games and your fingers get in the way of the action.
It is called the WynCASE, and we have to say it is one of the more interesting and practical ideas for a game-controller case we have seen. The case's buttons make use of the capacitive touch functions of the screen which enables the case to operate without the need for a battery or Bluetooth connectivity. The screen responds as if your fingers are touching the screen.
This case will not cost a lot either, early backers that help out WynLABS with as little as $30 will get a case when it becomes available this coming spring. They will ship internationally for only $10 more. At the point of ringing in the New Year, they were at about $17,000 toward an $80,000 goal with 11 days to go. Check out the pictures and video below, then click the Kickstarter source link if you would like to get your hand on one of these.
sources:
WynCASE
(Kickstarter) via
CNET