Helio gets dual-slider from Pantech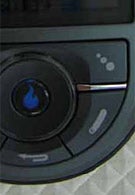 The FCC webpage just revealed information about the Pantech PN-810, which will be rebranded by Helio to enrich their phone line. This is the second Pantech phone for the carrier after the Hero. Samsung also prepares its second A303 model (in addition to the Drift), and the only one left is the VKMobile who manufactured the KickFlip.
Similar to the Hero, the new phone is a slider, but unlike it, this one is dual-slider. This means it has the screen and the navigation keys when closed and can open vertically to reveal standard numeric keypad or horizontally, to show the full QWERTY keyboard which is much more comfortable for messaging. Still, the new Helio phone has multimedia features including music player with dedicated key and 2-megapixel camera. Of course, miniSD slot is present for memory expansion.
Pantech PN-810 for Helio specifications
.
source: FCC