Hands on with the Samsung Intrepid
4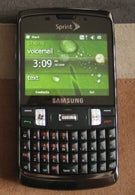 Windows Mobile 6.5 is here, and to help build the hype are some sexy devices such as HTC's
Imagio
,
Pure and Tilt 2
. On the other end of the spectrum is the Samsung Intrepid i350, the follow-up to the i325 Ace. The phone has gotten the proper spec bump including a touchscreen, a much improved keyboard, 3.2 megapixel camera and Wi-Fi. Like the Ace, the Intrepid sports both a CDMA and GSM radio to keep the world traveler always connected.
With Windows Mobile 6.5 comes more finger friendly menus and a vastly improved Internet Explorer, and Sprint has included Microsoft's very cool Tellme voice application on the device as well. Tellme gives youvoice-activated dialing and voice-to-text messaging, and can be used to get business listings, traffic, maps, driving directions,movies, weather instantly with the touch of a button and your voice.
Stay tuned for a closer look at the Samsung Intrepid!
Samsung Intrepid Specifications