HTC Imagio XV6975 Review
33

One of the more successful smartphones for Verizon over the past year has been the HTC Touch Diamond. We were hoping to see a Verizon release of the Touch Diamond2 later this year, but it appears that the
HTC Imagio XV6975
will take the place of the original model. The Imagio is similar to the Touch Diamond2; however it has grown in size in order to add a
bigger screen
. In addition, it runs on the
new Windows Mobile 6.5 Professional
operating system and is the only current smartphone for Verizon to supportVCast Mobile TV, powered by Qualcomm's FLO TV network. The Imagio also includes an updated
TouchFLO 3D user interface
, Opera Mobile 9.5 browser, and a 5MP camera. All of this combines into one high-end device that will be tough competition for the Samsung Omnia II and the Motorola A855 Android device that are due out later this year.
Included in the retail package is the HTC Imagio XV6975 phone, 1500 mAh battery, wall charger with detachable miniUSB cable, 3 power adapters, 2 stylus, CDs and user manuals.
Design:
Since the HTC Imagio is not part of the Diamond series, it loses the uniquely designed diamond-cut back that we've come to love. Instead the Imagio has a
2-tone back plate
, of which 75% has a soft-touch finish and the remaining 25% is shiny plastic. The Imagio is also slightly taller and wider than the Touch Pro2, but is not as thick since it lacks the sliding QWERTY keyboard. Because of this, the Imagio feels less "brick like" and is more
comfortable to hold
in your hand. It also isn't as noticeable when placed in your pants pocket.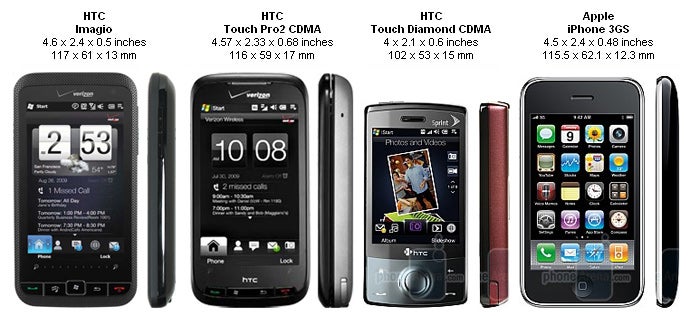 You can compare the

HTC

Imagio XV6975 with many other phones using our
Size Visualization Tool
.
One feature we truly love about the HTC Imagio is the large
3.6-inch 480x800 WVGA resolution resistive touchscreen display
, whereas the Touch Dimand2 only has a
3.2
-inch display. Since the Imagio doesn't have a physical keyboard or d-pad, the touchscreen is the main point of interaction with the device, and it works flawlessly. Images and text look excellent on it, though one can hardly see what is being displayed once taken outdoors in direct sunlight..
Below the display are the touch-sensitive zoom bar and 5 physical
buttons
for send, end, Mobile TV, Start, and back. The buttons work well and are noticeably larger than the ones used by the Touch Pro2.
On the right side
is the volume rocker and
on the bottom
are the 3.5mm headset jack and miniUSB data port. Located
on the back
are the 5MP autofocus camera, external speaker, and kickstand (to help when viewing videos). One part we didn't care for was the battery cover, as it has to be popped off, instead of being slid off, which makes you feel like it is going to break. But you have to remove it to gain access to the microSDHC memory card slot, which can use cards of up to 16GB in size. We would have preferred a side-access cover to the memory card slot instead.
HTC Imagio XV6975 360 Degrees View: