HTC brings jazzy, colorful official One X cases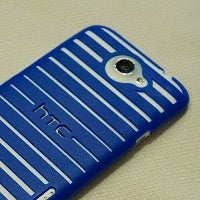 The HTC One series is not only HTC's 2012 phone lineup - it's a statement from HTC saying that the company is committed to bringing beautifully designed phones with cutting
edge
specs. You can judge with your dollar whether the company succeeded or not, but now with the latest cases that are made by HTC and designed to outfit the One X, we can certainly say that HTC is proving its focus on design.
The striped red and blue cases (there should be various colors) cover the back of the HTC One X, but don't cover it completely, leaving some room for the eye to feast on the beautiful unibody construction. There's a separate hole drilled for the camera, and HTC's logo is prominent in the center.
Having a case made by the manufacturer might not be the most important thing in the world, but it shows attention to detail. The cases should arrive on May 6th, when the HTC One X launches on AT&T, so stay tuned.