HTC U12+ vs Galaxy S9+ vs OnePlus 6: specs comparison
3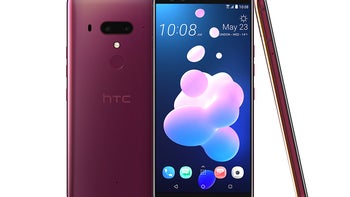 The HTC U12+ is now official, inheriting the mantle from the HTC U11 and aiming to help HTC hold its diminishing ground on the already jam-packed Android market.
With a Snapdragon 845, 6GB of RAM, 64 or 128GB of native storage, the HTC U12+ is as well-spec'd as any other self-respecting flagship device out there. Of course, it has its fair share of unique features that add tons of merit, namely thanks to its four cameras, promising audio capabilities, and intriguing color options.
But how does HTC's latest phone compare against two of its fiercer rivals, the Galaxy S9+ and the fresh OnePlus 6? There's only one way to find out, and that's by putting the three against one another in an improvised specs comparison.
Super AMOLED
AMOLED
S-LCD 6
HDR support, Scratch-resistant glass, Ambient light sensor, Proximity sensor
Scratch-resistant glass, Ambient light sensor, Proximity sensor
HDR support, Scratch-resistant glass, Ambient light sensor, Proximity sensor
Qualcomm Snapdragon 845 SDM845 (10 nm)
Qualcomm Snapdragon 845 SDM845 (10 nm)
Qualcomm Snapdragon 845 SDM845 (10 nm)
Octa-core, 2800 MHz, Kryo 385, 64-bit
Octa-core, 2800 MHz, Kryo 385, 64-bit
Octa-core, 2800 MHz, Kryo 385, 64-bit
Adreno 630
Adreno 630
Adreno 630
64GB
256GB, not expandable
128GB
Android (10, 9.0 Pie, 8.0 Oreo), Samsung One UI
Android (11, 10, 9.0 Pie, 8.1 Oreo), OxygenOS UI
Android (9.0 Pie, 8.0 Oreo), HTC Sense UI
Qualcomm Quick Charge 2.0, Samsung Adaptive Fast Charging
OnePlus Dash Charge
Qualcomm Quick Charge 3.0
35.00 hours
the

average

is 11 h (660 min)
14.2 days (342 hours)
the

average

is 29 days (688 h)
23.80 hours
the

average

is 0 h (0 min)
3G: 13 hours; LTE: 15 hours; Wi-Fi: 15 hours
Dual camera
Dual camera
Dual camera
16 MP (OIS, PDAF, CMOS image sensor)
12 MP (OIS, Laser and PDAF, CMOS image sensor, BSI sensor)
Aperture size: F1.5/F2.4; Focal length: 26 mm; Sensor size: 1/2.55"; Pixel size: 1.4 μm
Aperture size: F1.7; Focal length: 25 mm; Sensor size: 1/2.6"; Pixel size: 1.22 μm
Aperture size: F1.8; Focal length: 26 mm; Sensor size: 1/2.55"; Pixel size: 1.4 μm
12 MP (Telephoto, OIS, Autofocus)
20 MP (PDAF, CMOS image sensor)
16 MP (Laser and PDAF, CMOS image sensor, BSI sensor)
Optical zoom: 2.0x; Aperture size: F2.4; Focal Length: 52 mm; Sensor size: 1/3.6"; Pixel size: 1 μm
Aperture size: F1.7; Focal Length: 25 mm; Sensor size: 1/2.8"; Pixel size: 1 μm
Optical zoom: 2.0x; Aperture size: F2.6; Focal Length: 46 mm; Sensor size: 1/3.09"; Pixel size: 1 μm
3840x2160 (4K UHD) (60 fps), 1920x1080 (Full HD) (240 fps), 1280x720 (HD) (960 fps)
3840x2160 (4K UHD) (60 fps), 1920x1080 (Full HD) (240 fps), 1280x720 (HD) (480 fps)
3840x2160 (4K UHD) (60 fps), 1920x1080 (Full HD) (240 fps)
HDR, Time-lapse video, Hyperlapse, Continuous autofocus, Object tracking, Picture-taking during video recording, EIS, Video calling, Video sharing
Time-lapse video, EIS, Video calling, Video sharing
OIS, Time-lapse video, Hyperlapse, Picture-taking during video recording, Video calling, Video sharing
8 MP
16 MP
8 MP
2560x1440 (QHD) (30 fps)
1920x1080 (Full HD) (30 fps)
1920x1080 (Full HD) (30 fps)
6.22 x 2.91 x 0.33 inches (158.1 x 73.8 x 8.5 mm)
6.13 x 2.97 x 0.31 inches (155.7 x 75.4 x 7.75 mm)
6.17 x 2.91 x 0.38 inches (156.6 x 73.9 x 9.7 mm)
6.67 oz (189.0 g)
the

average

is 6 oz (172 g)
6.24 oz (177.0 g)
the

average

is 6 oz (172 g)
6.63 oz (188.0 g)
the

average

is 6 oz (172 g)
Back: Glass (Corning Gorilla Glass 5); Frame: Aluminum
Back: Glass (Corning Gorilla Glass 5); Frame: Metal
Back: Glass; Frame: Metal
Water, Dust; IP68
Splash
Water, Dust; IP68
Iris scanner, 2D Face unlock, Fingerprint (touch)
2D Face unlock, Fingerprint (touch)
2D Face unlock, Fingerprint (touch)
Notification light
Notification light
Notification light