HTC One (M8) vs Samsung Galaxy S5 vs Sony Xperia Z2: specs comparison
25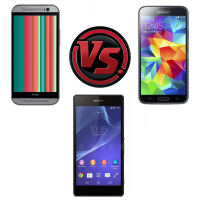 Oh, boy, are you at the right place at the right time!
The time has come for HTC to come forth with its new One flagship, and remove whatever lingering doubt there is about the exact specifications of the hard-hitter. In abidance with an old PhoneArena tradition, this means it's also time for a quick spar between Taiwan's new hotshot and Samsung's and Sony's still minty-fresh Galaxy S5 and Xperia Z2.
That's obviously an explosive line-up to pit against each other, not least because this trio is being released in a very similar time window. This means no advantages owed to newer technology. But make no mistakes -- there are nuances, and where one may excel, another likely only follows. At least from a purely hardware standpoint.
So, for example, the Galaxy S5 comes with the most potent bin of the newly-christened Snapdragon 801, but its camera sensor is not quite as big as the one found on the Xperia Z2, and the One has the smallest one (but with the biggest pixels). The Z2 also comes with the biggest, 5.2-inch display, and the largest, 3200mAh battery, not to mention that it sports 3GB of DDR3 RAM, whereas the Galaxy S5 is trailing behind with 2GB of DDR3 RAM, while the One M8 comes at the very bottom with less-speedy 2GB of DDR2 RAM.
Of course, the differences don't stop here, and you can study the specs sheets side-by-side for as long as you want, but do yourself a big one and wait for a more thorough and complete review comparison before making any rash decisions. These are just dry specs and nothing more. Experience has sure taught us to distrust their word. With that in mind, do take a look.
Super AMOLED
S-LCD 3
IPS LCD
Scratch-resistant glass, Ambient light sensor, Proximity sensor
Ambient light sensor, Proximity sensor
Scratch-resistant glass, Ambient light sensor, Proximity sensor
Qualcomm Snapdragon 801 MSM8974-AC (28 nm)
Qualcomm Snapdragon 801
Qualcomm Snapdragon 801 8974-AB
Quad-core, 2500 MHz, Krait 400, 32-bit
Quad-core, 2300 MHz, Krait 400
Quad-core, 2300 MHz, Krait 400
Adreno 330
Adreno 330
Adreno 330
Android (6.0 Marshmallow, 5.1 Lollipop, 5.0 Lollipop, 4.4.4, 4.4.2), Samsung TouchWiz UI
Android (6.0 Marshmallow, 5.0 Lollipop, 4.4.3, 4.4), HTC Sense UI
Android (6.0 Marshmallow, 5.1 Lollipop, 5.0 Lollipop, 4.4.4, 4.4.2)
Qualcomm Quick Charge 2.0
21.00 hours
the

average

is 17 h (996 min)
15.00 hours
the

average

is 17 h (996 min)
16.2 days (390 hours)
the

average

is 20 days (472 h)
28.8 days (690 hours)
the

average

is 20 days (472 h)
21.00 hours
the

average

is 19 h (1110 min)
20.00 hours
the

average

is 19 h (1110 min)
19.00 hours
the

average

is 19 h (1110 min)
20.7 days (496 hours)
the

average

is 0 days (0 h)
30.8 days (740 hours)
the

average

is 0 days (0 h)
Single camera
Dual camera
Single camera
20.7 MP (Autofocus, CMOS image sensor)
Aperture size: F2.2; Focal length: 31 mm; Sensor size: 1/2.6"; Pixel size: 1.12 μm
Aperture size: F2.0; Focal length: 28 mm; Sensor size: 1/3"; Pixel size: 2 μm
Aperture size: F2.0; Sensor size: 1/2.3"; Pixel size: 1.12 μm
3840x2160 (4K UHD) (30 fps), 1920x1080 (Full HD) (60 fps)
1920x1080 (Full HD) (60 fps), 1280x720 (HD) (120 fps)
3840x2160 (4K UHD)
HDR, Continuous autofocus, EIS, Video calling, Video sharing
HDR, Video light, Video sharing
HDR
2.1 MP
5 MP
2.2 MP
1920x1080 (Full HD)
1920x1080 (Full HD)
1920x1080 (Full HD)
5.59 x 2.85 x 0.32 inches (142 x 72.5 x 8.1 mm)
5.76 x 2.78 x 0.37 inches (146.36 x 70.6 x 9.35 mm)
5.78 x 2.89 x 0.32 inches (146.8 x 73.3 x 8.2 mm)
5.11 oz (145.0 g)
the

average

is 6.5 oz (184 g)
5.64 oz (160.0 g)
the

average

is 6.5 oz (184 g)
5.75 oz (163.0 g)
the

average

is 6.5 oz (184 g)
Back: Plastic
Back: Aluminum
Back: Glass
Water, Dust; IP67
Splash; IPX3
Water, Dust; IP58
Touch sensitive control keys, Interchangeable covers, Notification light