HP shows off the petite size of the Veer 4G on the back of the New York Times
12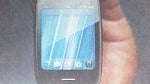 The HP Veer 4G has been plastered on the back of today's New York Times in a full-page ad by the handset's manufacturer. In a smart move by HP, the phone is pictured in its actual size which allows readers to see just how petite the credit card sized smartphone is.
The copy of the ad doesn't deal with the phone's middle of the road specs, concentrating instead on the device's main selling point as the smallest 4G smartphone in the nation. The HP Veer is
currently on sale
for $99.99 at AT&T with a signed 2-year contract and there is no doubt that HP spent a pretty penny on the advertisement hoping to whip up some interest in the model.
source:
Precentral