HP announced two new mobile devices
5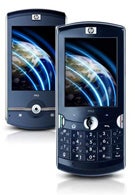 They're sleek, stylish, and they're directly from HP. The company recently launched the iPAQ Data Messenger and the iPAQ Voice Messenger.
The
Data Messenger
sports a slide out QWERTY keyboard, along withWindows Mobile 6.1 Professional, a 2.8 inch QVGA screen, Wi-Fi,Bluetooth, and a 3.1-megapixel camera. It offers 128 MB of RAM and 256MB ROM, and a microSD card slot for additional expansion. In regards toconnectivity, the phone supports quad-band GSM/GPRS/EDGE(850/900/1800/1900 MHz), and tri-band UMTS (900/1900/2100 MHz -European 3G bands). The device has an 1140 mAh battery.
The
Voice Messenger
is different in regards to shape, offering a SureType-likekeyboard, much like the BlackBerry Pearl. It runs Windows Mobile 6.1Standard, and though it has a smaller 2.4 inch QVGA screen, is muchlighter than the Data Messenger. It supports the same connectivitybands, offers the same amount of memory, a 3.1-megapixel camera, and aslightly larger 1260 mAh battery. According to HP, the Voice Messengeris designed for those that want a phone, but also need occasionalaccess to e-mail.
Though both devices use microUSB for synchronization and charging purposes, HP has incorporated new technology in regards to navigation. Rather than using a traditional five-way navigational button, HP opted for an optical sensor, which, according to HP's Neil Dagger, allows you to "just glide your thumb over the disk, and you glide though the menus,tapping it when you want to select something."
Vodafone will be the first carrier to offer the devices, however HP resellers will offer them without contract at £399 ($677) and £333 ($565), respectively. Subsidized pricing from Vodafone has not yet been disclosed.
source:
HP
,
more
via
wmpoweruser