Groupon rumored to be getting into the increasingly crowded mobile payment business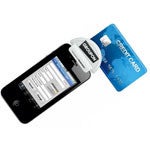 We're hearing an interesting rumor that daily deal site Groupon may be looking into getting into the already crowded mobile payment business. With competitors like Verifone, PayPal, Intuit, and Square, is there really room for another competitor in the market? According to VentureBeat, yes.
VentureBeat claims to have a source in the company telling them that Groupon is in the process of testing a card-reader as well as a payment processing system. The source claims that Groupon is giving out free readers, as well as free iPod Touch handheld devices for the readers to be used on. The rumor also is that the service aims to bring the charge for a mobile payment down to a 1.8 percent fee, on top of a 15 cent charge per transaction. This would make them significantly less than the closest competition.
In February, Groupon bought Kima Labs, the company who brought us TapBuy, so it doesn't seem too far fetched that Groupon would be interested in migrating the two services into one where they could provide the deal and provide a way to pay for it.
source:
Engadget