Gresso's Black Diamond-encrusted luxury iPhone 7 costs just $500,000
36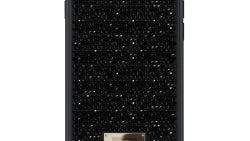 Gresso is a luxury brand that loves to decorate high-end smartphones and accessories with a tasteful amount of jewelry. Its latest offering is the iPhone 7 Black Diamond collection, which comprises three black iPhone 7 handsets worth $500,000 each. Their back panels are covered in 1450 black diamonds (totaling 102kts), while the body has been re-crafted from premium grade-5 titanium.
The Gresso logo and camera frame are made of 10 grams of 18kt gold, and the product is complete with the addition of black AirPods – covered in no less than 30 black diamonds (2kts). Each unit is hand-made and takes over 18 hours to assemble. It's certainly good that $500k nets you a 256GB model, too.
If $500,000 is a bit out of your smartphone budget, fret not, you can still order an iPhone case from Gresso that's made of grade-5 titanium and features an 18kt gold inlay, along with diamond embellishments. These are made in 999 pieces and the price starts from a more reasonable $2500.
Gresso is yet to announce shipping dates, but if you're set on getting an iPhone 7 or a luxury case from the brand, feel free to get in touch via the website.