Grand Theft Auto III arrives for the iPhone and iPad: yours for $4.99
16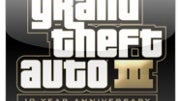 Rockstar Games has just released one of its most popular titles -
Grand Theft Auto III
- on both the iPhone and the iPad with a relatively affordable price of $4.99. The game was originally released for the PS 2 10 years ago, but is still among the most inspiring titles of all times. It brings a huge virtual world which you can explore on your feet or a vehicle, and it looks even closer on a touchscreen.
Grand Theft Auto III
works on
the iPhone 4, iPhone 4S, iPod Touch 4, iPad 1 and iPad 2.
Here's how Rockstar Games summarized the release:
"Rockstar Games celebrates the 10th anniversary of one of the most influential games of all time. The critically acclaimed blockbuster Grand Theft Auto III comes to mobile devices, bringing to life the dark and seedy underworld of Liberty City. With a massive and diverse open world, a wild cast of characters from every walk of life and the freedom to explore at will, Grand Theft Auto III puts the dark, intriguing and ruthless world of crime at your fingertips."
Check out the videos below and hit the link if you want to get GTA III on your iOS device.