Google's privacy director to step down this summer
1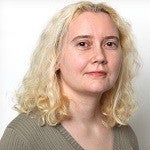 The job held by Alma Whitten at Google was created after it was revealed that Google's Street View cars were scooping up everything it could find in electronic noise, emails, URLs, passwords and more when they would monitor an unsecured Wi-Fi networks.
Since that debacle, Whitten's job was to "ensure that we build effective privacy controls into our products and internal practices."
No details about Whitten's departure were offered, but there have been a number of changes announced by Google this year, so we will chalk it up to spring cleaning. Whitten will remain while her successor, Lawrence You gets up to speed and assumes the role as privacy director. Lawrence You has been at Google for eight years and was one of the first people Whitten brought onto the privacy team when she assumed the role.
source:
PCMag.com