Google stock surges over $900 for the first time, company beats Microsoft in market cap
16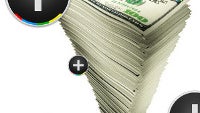 In case you haven't noticed, Google's shares have surged in value over the last two couple of weeks. From their pretty stable plateau of around $800 where Google has been for quite a while, in the last two weeks the stock gained more than 10% in value and the search company is now trading for the first time for over $900 apiece.
This brings Google's market capitalization to over $300 billion, and this figure starts to look close to the market cap of the world's biggest tech company, Apple.
Google's price to earnings ratio however is worse than Apple's. Google has a P/E margin of around 27 while Apple's one is only around 10.
But Apple is not the only rival we have to mention. With this recent share value surge Google has beaten Microsoft in terms of total market cap. Google's current $300 billion are more than Microsoft's market cap of $281 billion.
Those share evaluations are extremely volatile and unpredictable, though, and with Google I/O kicking off in hours we wouldn't be surprise to see them change again rapidly. Stay tuned!
source:
Google