Google releases Android 4.0.4 source code into AOSP
1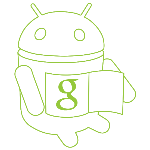 Hot on the heels of the Android 4.0.4 update
leaking out for the Motorola XOOM WiFI
, Google has now released the source code for this update into the Android Open Source Project repositories. The code is build IMM76D of the Android system, which means it should be essentially the same to the update on its way for the Motorola XOOM WiFi, and the GSM Nexus S, which has been reported to be seeing the update as well.
The new code is just an incremental update over Android 4.0.3, but still includes "a few hundred changes" over the last version according to the Technical Lead for Google AOSP, Jean-Baptiste Queru. The source should be in the repo now, and the "matching proprietary drivers" should be there by the end of the day. However, Queru does caution that "files related to CDMA devices (Nexus S 4G,CDMA/LTE Xoom, CDMA/LTE Galaxy Nexus) have not been tested in the context of AOSP."
Still, this is pretty great news for custom ROM developers like Team Douche working on CyanogenMod, and of course the users of those custom ROMs. And, although unconfirmed, it may mean the update could be showing up soon for Galaxy Nexus users.