Google Maps now has GPS support on BlackBerry Storm 9530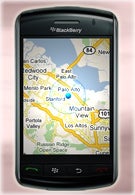 As the days go by and time passes from the late November launch of the BlackBerry Storm, more and more improvements are happening to the first touchscreen BlackBerry. Today, the Verizon model of the device, the 9530, has a new version of Google Maps ready to be downloaded by owners of the device. The update will allow Google Maps to work in conjunction with the Storm's built-in GPS chip.
This download allows the Storm to be the first BlackBerry from Verizon that makes it possible for your GPS location to be accessed by My Location and in addition, provides improved accuracy for both My Location and Latitude. The latter application allows you to track your friends' location on your Google Maps. Unfortunately, for now, the BlackBerry Storm is the only BlackBerry device, offered by Verizon, to be able to take advantage of the new application.
BlackBerry Storm Specifications
|
Review
source:
GoogleMobileBlog