Google updates Docs, Sheets, and Slides Android apps with new look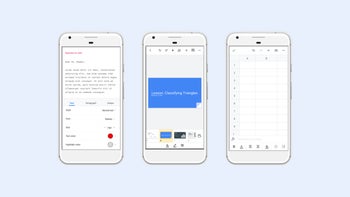 A new look and feel are now available for Google's Docs, Sheets and Slides app, the Mountain View company
announced
earlier today. Unfortunately, if you were expecting any new features or improvements, you'll be disappointed. Google confirmed that there are no functionality changes whatsoever in this update, so the only things we'll get are the visual improvements.
The visual improvements mentioned by Google include a restyled document list, highly-legible typefaces, consistent controls, and updated icons all over the place. Google also announced that the redesign has already made its way to the latest versions of Docs and Slides for Android.
On the other hand, the new design will roll out to Sheets on Android sometime today, so expect the new visual improvements to pop up very soon. The most recent Docs, Sheets and Slides
Material redesign update
is part of a larger effort to bring consistency to the look and feel of Google's G Suite apps.
Although these updates are now being rolled out globally to all Android devices, it will take up to two weeks to appear for everyone, so be patient if the changes aren't yet available for you.