Gartner: Android accounted for 87.7% of global smartphone sales in the second quarter
75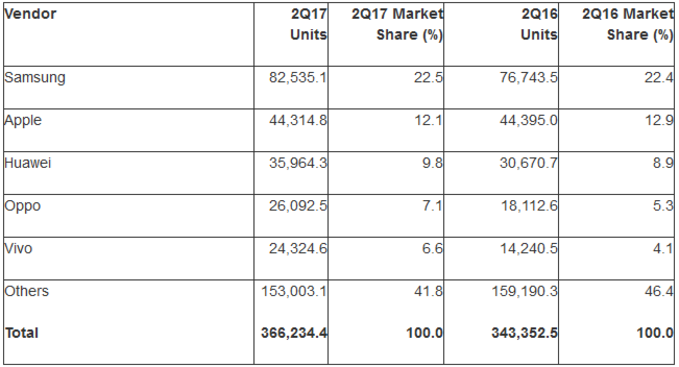 Android and Samsung topped the global smartphone market in the second quarter
Analytical firm Gartner has released the data it has collected for the second quarter of this year. Based on this information, global smartphone sales rose 7.6% from April through June of 2017. Of the 366.2 million handsets purchased during the three months, 87.7% of the units bought had the Android OS installed, and 12.1% were iOS powered iPhone models. Gartner research director Anshul Gupta says mid-priced smartphone demand ($150 to $200) was driven by consumers in emerging markets seeking 4G enabled models
Topping the list of manufacturers was Samsung. The South Korean tech titan shipped 82.5 million handsets in the quarter, which helped the company snag a 22.5% market share. Samsung had a year-over-year increase of 7.5% in the number of phones shipped. Gartner says that despite competition from high-flying Chinese brands, the
Samsung Galaxy S8
and
Samsung Galaxy S8+
will ensure that the company reports growth in shipments this year.
Apple sold 44.3 million iPhone handsets in the second quarter, which was a small drop from the 44.4 million units sold during the same quarter last year. Gartner analysts expect sales to pick up in the fourth quarter thanks to the launch of the
Apple iPhone 7s
,
iPhone 7s Plus
and
iPhone 8
. Gartner notes that sales of the tenth anniversary model could be soft in the period from October through December because of the limited supply of that unit. KGI Securities analyst Ming-Chi Kuo says that
Apple will have only 2 million to 4 million iPhone 8 units available at launch
due to low yields. Still, Gartner forecasts a strong fourth quarter for Apple as the changes made to iOS 11, including an improved Siri, will drive sales.
Huawei finished in third place with 36 million phones sold in the quarter. That was a very impressive 17% increase from the second quarter of 2016, and resulted in a 9.8% market share for the company. Huawei is moving closer to Apple and second place. The manufacturer's announced goal is to
top Samsung and Apple to become the top smartphone manufacturer by 2021
.
With a 44.1% increase in sales year-over-year, Oppo finished fourth with 7.1% of the global smartphone market with 26.1 million units sold. Rounding out the top five was Vivo. The firm had a tremendous 70.8% jump in sales from Q2 of 2016 to Q2 of this year. In actual numbers, sales rose to 24.3 million from 14.2 million, enough to allow Vivo to claim 6.6% of the global smartphone market.
Gartner's Gupta says that component shortages, especially with OLED panels and flash memory, will negatively impact the supply of high-end models in the second half of 2017.
"We expect a shortage of flash memory and OLED [organic light-emitting diode] displays will affect premium smartphone supply in the second half of 2017. We've already seen Huawei's P10 suffer from a flash memory shortage, and smaller, traditional brands, such as HTC, LG and Sony, are stuck between aggressive Chinese brands and the dominating market shares of Samsung and Apple in the premium smartphone segment."-Anshul Gupta, research director, Gartner
source:
Gartner