Poll results: Galaxy S9 wins popularity contest vs Xperia XZ2... by a hair
22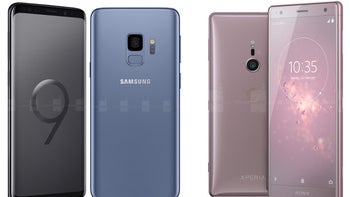 At this year's MWC, we only saw two of the major players introduce their flagships. First, we got Samsung's Galaxy S9, then Sony showed us the brand-new Xperia XZ2. They are both cool phones in their own right, with their strengths, weaknesses, and unique features.
The Samsung Galaxy S9 refines on the S8 formula with very slight design changes, stereo speakers, the introduction of Super slow motion on Samsung's side, AR Emoji, Portrait mode for the S9+, and the cool new variable camera.
The Sony Xperia XZ2 got a redesign with a super-wide 18:9 screen ratio, a fingerprint scanner for the US market, its own 3D Creator Avatars (custom emoji), the weird dynamic vibration, Super slow motion upgraded to 1080p, and 4K HDR video recording.
We decided to see which one got the audience's favor more. So, we devised a poll. In the results below, you can see that the Galaxy S9 did win... but not by that much. Samsung has been growing into a goliath in the mobile world for the past 3 years, so, good job Sony!