Galaxy Note5 vs 4 vs 3 vs 2 vs 1 drop test is one way to take out the S Pen
8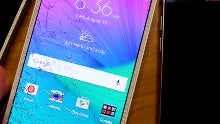 The
Note5
comes with the same bold and fresh redesign that the
Galaxy S6
introduced a few months ago, but in a larger format, of course. The steel-and-glass frame is a beauty to hold and look at, and Samsung even managed to keep the chassis thin and light, despite that the typical plastic construction has been replaced by premium materials. In fact, the Note5 is almost an exact copy of the pretty S6 design, down to the slightly protruding camera unit, but housed in a larger footprint, and with curved back towards the sides that makes for a more ergonomic grip on the largish phablet.
Samsung is rather proud of the manufacturing process it used to arrive at the metal-and-glass unibody of the Note5, and with a good reason. It has employed a nano-thin multi-coating process to achieve the elegant finish and uniform coloring of the various hues that the Note 5 will be available in. Moreover, just like with the S6, the Note5 likely
employs a grade 6013 aluminum alloy
, while most other smartphones, including the iPhone 6, make do with derivatives of the inferior 6063 grade.
That's all fine and dandy for a bend test, but a drop test, with all that glass wrapping the front and back, is a totally different matter. In fact, the rear of the Note5 gets chipped, cracked or otherwise damaged from almost any kind of drop test, but the front proved remarkable resilient when dropped together with all the Note generations so far for comparison. Check it out.